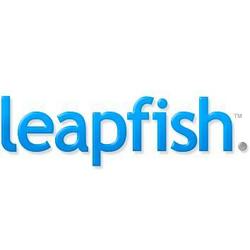 Ft. Lauderdale, FL. (PRWEB) November 11, 2009
LeapFish, an upcoming search and social media innovator, who unveiled their new multi-media and real-time search, communication, and sharing platform to great fanfare on November 5, 2009. The new platform will be showcased in a WebmasterRadio.FM Town Hall Meeting on Wednesday November 11th at 6pm Eastern Time.
LeapFish has created a new search platform that seamlessly combines the ability to search and share real-time and traditional content in any media format in a single interface across a range of different sites (e.g., Twitter, Facebook, Digg).
The new LeapFish search experience offers consumers a real-time search engine, a technically advanced customizable personal homepage, more multi-media results from the entire Web and the ability to share any piece of content found online. Ben Behrouzi states in the interview there are a lot of on the internet and we need a place we can go to that customizes to our needs.
LeapFish Search Engine Features that we review:
Real-Time Search Engine: A fresh multi-media real-time search engine capturing results from all containers of real-time content (e.g., Twitter, YouTube, Twitpic, Flickr).
Searching and Sharing: Easy and convenient sharing features empower users to merge traditional content into the social and real-time Web as they search and find content anywhere online (e.g., Facebook, Twitter, Digg).
Variety of the Web : Delivering rich multi-media content from the deep and wide new Web via integration of leading authorities in website aggregation, videos, images, news, blogs, tweets and much more on every search query (e.g., YouTube, CNN, Twitter).
Personal Internet Dashboard : Technically advanced customizable personal homepage allowing consumers to build their own dashboard to the Internet by adding multiple news feeds, blogs, applications, tools and more (e.g., Facebook Application, Twitter Application, Mashable Feed)
To try the new search experience for yourself, visit http://www.leapfish.com.
The Webmaster radio special featuring LeapFish will air Wednesday November 11th at 6pm Eastern Time All WebmasterRadio.FM programs are available immediately in podcast and archived format at http://www.WebmasterRadio.FM.
About WebmasterRadio.FM WebmasterRadio.FM lifts the "veiled curtain" of the Internet, bringing the business community together through an interactive radio network. Its listeners are a global group, comprised of everyone from corporate executives and decision makers to small and mid-sized businesses and individual entrepreneurs. WebmasterRadio.FM's stellar line-up of radio programming includes "CoverStory" with Jiyan Wei of PRWeb, WebmasterRadio.FM's official newswire; Market Edge with W2/Racepoint Group Chairman Larry Weber; Fired Up! with Gordon Rudow of Bonfire Communications; "SEM Synergy with Search Engine Marketing Industry Leader Bruce Clay and more. To tune into WebmasterRadio.FM's live content or check out the show lineup, please visit http://www.WebmasterRadio.FM.
Media Contact:

Brandy Shapiro-Babin

954-309-5578
About Leapfish:

LeapFish is an evolved search engine that captures the traditional, multi-media and real-time Web, through a single, connected search platform for both searching and sharing content. Founded by Ben Behrouzi (co-founder of Reply.com), LeapFish is a privately held, 100-person corporation headquartered out of CARR America Corporate Center in Pleasanton, California. For more information, visit blog.leapfish.com
Media Contact:

LeapFish Media

888-748-5510, ext. 140
###