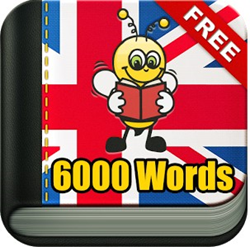 (PRWEB) March 31, 2014
Millions of people around the world wish to learn foreign languages due to variety of reasons.Learn English 6,000 Words App is an enticing Android app that has become extremely successful in helping people in the process of learning various languages. Recently, the mobile app achieved another big milestone of receiving one million downloads on Google Play Store.
Click here to install Learn English 6,000 Words app.
Over the last few months, popularity of the mobile app has gained a lot of momentum mainly because of very strong word of mouth publicity. The unique proposition of this app is that it helps people learn different languages in an innovative way, saving them from the boredom on learning a language in the old school way. For example, it helps people learn English vocabulary in a fun and innovative way.
The makers of the app have also included some new features during the last month, and sharing the details of some of the latest upgrades, one of the app developers stated – We have added new features like phonetic transcriptions and tutorials. Also we have added the translation for 28 languages. With all these new features going live we're very proud that Learn English 6,000 Words users continue to rate the app 4.4 stars in the Google Play store.
The developer continued sharing his excitement about the huge success of the app, and was quoted as saying – We could not have reached this milestone without the support of the FunEasyLearn community that has been spreading the word about the app. Thanks to everyone who has told a friend about how FunEasyLearn helps people learn a foreign language.

People who want to learn different foreign languages through Learn English 6,000 Words can download this app on their Android devices for free.
About the Company

Learn English 6,000 Words is an Android-based mobile app that helps people learn different foreign languages such as English, German, Korean, Russian, and French through exciting ways. It saves them the trouble of learning languages in the good old boring way.
To know more about the Learn English 6,000 Words app, visit https://play.google.com/store/apps/details?id=com.funeasylearn.english.