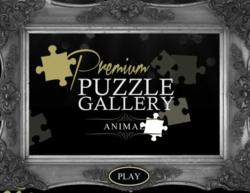 Portage, MI (PRWEB) December 07, 2012
Learning Gems has launched a new puzzle game for select smartphone and tablet devices that features 40 different images to choose from at three levels of difficulty in order to make it an app children ages seven and older through adult-aged individuals can enjoy.
The app, Premium Puzzle Gallery Animals, features 40 high-resolution boards. These boards are photographs from professional photographers selected by Learning Gems. The array of images feature both domestic and wild animals, including cats, monkeys and more.
Depending on the age of the participant, one of three levels of difficulty can be selected: easy, medium or hard. This makes the game appealing to a broader age range. However, while this game can be enjoyed by individuals of all ages, including adults, it is recommended that children be at least seven years old to appreciate and have fun using this app.
During gameplay, users can select the different puzzle pieces, rotate them and drag and drop them into place on an opaque version of the puzzle being worked on. As pieces are put in the correct places, they lose the opacity and start to show what the full-color image will look like upon completion.
For those interested in downloading this app, it can be found in the Amazon, Apple and Barnes & Noble app stores as well as on Google Play for .99 cents.
Learning Gems, a venture of Blue Fire Media, is based out of Portage, Mich. The companys team is composed of programmers, graphic designers, schoolteachers and copywriters all with one similar goal in mind: to provide a fun way to learn through educational apps. Other apps from the Learning Gems team focus on educational topics that include U.S. coins and geography, basic colors and shapes, math, spelling, Spanish and memory skills.
Sister company, Blue Fire Media, can also be found in Portage, Mich. This companys focus is on web design, web marketing and SEO.