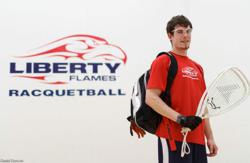 Lynchburg, VA (PRWEB) December 15, 2012
Liberty University Flames racquetball standout Shawn Furman recently received a one-year sponsorship deal from ProKennex Racquetball, a leading racquet sports equipment company.
Furman, a senior, will utilize ProKennex equipment and is expected to participate in a specified number of tournaments and host demonstration clinics to showcase the brand. He said the Liberty University racquetball team plans to host one such event at its home court, the Liberty-owned Sports Racket in Lynchburg, where he will have his own station to represent ProKennex.
Furman, a native of Northumberland, Pa., was offered the contract by the commissioner of the Mid-Atlantic Collegiate Racquetball Conference after one of the teams tournaments in November.
Most sponsored players go looking for companies to sponsor them, said Danny Rodriguez, Flames racquetball head coach. In Shawns case, the ProKennex marketing rep offered to give the sponsor slot to Shawn.
Furman joined the team shortly after it was formed in fall 2011 and was soon playing in the teams top position. He quickly began to adopt a leadership role, which Rodriguez said has been very useful in coaching.
He works with the players who need help in specific areas, Rodriguez said. If we work on a specific drill, I will ask Shawn to take half the team to practice the drill, allowing me more one-on-one coaching.
Furman said it is an honor to be considered a professional athlete, marketing the brand.
I want to do the best I can to represent them well, he said. I do the best I can to represent Liberty well, and I can continue showing people what it means to be a professional at every level with this sponsorship.
He said he hopes to compete on an international racquetball tour.
Furman will graduate with a B.A. in pastoral leadership at the end of this semester and will join Rodriguez as an assistant coach next semester.
He said he is thankful for his close friend/teammate Jordan Kemp who encouraged him to join the team. Furman also said he appreciated Rodriguezs role in making him the player he is now.
He helped me recognize what I can do, what I am capable of. I have really capitalized on what he has told me.
Liberty University, located in Lynchburg, Va., is the worlds largest Christian university. Nearly 100,000 students attend classes on its 6,800-acre residential campus and study in its thriving online education program. Racquetball is offered through Liberty's Club Sports program which features 31 teams, many of which place well in regional events and participate in national tournaments.