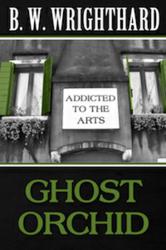 Evansville, IN (PRWEB) May 16, 2013
The authors decided on the pen name B. W. Wrighthard because it not only combined both names but also included the added pun of write hard. Their debut novel, Ghost Orchid, takes place in fictional River City, Indiana, a city not unlike Evansville, Indiana, where Robin Wright and Maryanne Burkhard both live.
Ghost Orchid is the story of Saras journey from San Francisco to River City, Indiana to reconnect with the mother who abandoned her years earlier. Once in Indiana, Sara blends in with the artists at Addicted to the Arts Co-op, where her mother is a vital member. She also meets and befriends Jane, and before they know it, the lies and truths that weave through their parallel lives are exposed in a crashing reality.
Jim McGarrah, author of A Temporary Sort of Peace, said of Ghost Orchid, This is the story of Fiona and Sara, mother and daughter and damaged souls. In good stories, the characters develop through their actions, and yet paradoxically the action is controlled by the characters. This is what the great storyteller Flannery OConnor calls the mystery of personalitywhen folks will do what they will do in spite of everything, and in so doing create universal meaning through the presented experience. Ghost Orchid achieves this goal magnificently making it a rare reading pleasure.
Ghost Orchid is published by eBookIt.com and is available in both e-book format and paperback from several online bookstores, including Amazon, Apple, B&N, Sony, Ingram, and Kobo.
The authors are also working on a cozy mystery series that will include the fun factor their write hard pseudonym implies. The first in the series, A Needle and A Haystack, will soon be available in e-book format.
Contact:

B.W. Wrighthard

(812) 479-9142

bwwrighthard(at)yahoo(dot)com

http://bwwrighthard.com
About eBookIt.com

Since 2010, eBookIt.com (based in Sudbury, Massachusetts) has helped thousands of authors and publishers get their books converted to ebook format, and distributed to all the major ebook retailers, including Amazon.com, Barnesandnoble.com, Apple iBookstore, Kobo, Sony Readerstore, Ingram Digital, and Google eBookstore.