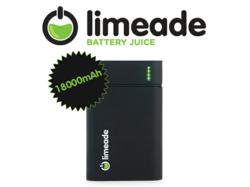 Boulder, CO (PRWEB) May 03, 2013
Limeade debuts on Kickstarter today a series of compact, ultra-high capacity portable batteries capable of charging mobile devices like the iPhone 5 for more than twelve full cycles on a single charge of the power bank. The Limeade Blast comes in three sizes: 18000mAh (L180X), 15600mAh (L156X), and 13000mAh (L130X). Even the smallest model in the series exceeds the top-end capacities currently offered by market leaders such as Anker, PowerGen, RAVPower, New Trent, and Mophie, observed Paul Lin, Chief Executive Officer and Limeade Co-founder. We are creating a new class of external batteries for the industry.
Millions of mobile device users need anytime-access to dependable power to keep those devices up and running. The 18000mAh of energy housed in the Limeade Blast L180X supports an additional 155 hours of active talk-time on a smartphone or can increase standby-time on a users device by over 1000 hours while maintaining an incredibly small footprint. The pocket-sized Blast is less than 5 inches tall, under an inch thick, weighs a scant 13oz and fills the current void for truly portable, ultra-high capacity power banks.
A battery of such massive capacity would normally take around 20 hours to charge, but the Blast completes a charge cycle in just eleven hours. We accomplished this through our rapid 2A input technology, said Co-founder Melissa Lau and Limeade Chief Operating Officer. The 2A input is unique on the market and the resulting charge time is over nine hours faster than if the Blast relied on 1A inputs found on other external batteries.
To facilitate this speedy charge without harming the health of the lithium-ion core, we engineered a safety mechanism, which allows the input amperage to taper off towards the end of the charge cycle, a feature that enables for 500+ full charges over the lifetime of the battery. The Blast employs auto-on, auto-off technology to preserve battery charge at all times and includes a built in LED flashlight for added utility.
Each Limeade device permits simultaneous charging of two gadgets on its standard 1A output and its faster 2.1A output port. A Samsung Galaxy SIII can be fully charged in about an hour using the 2.1A output and the port supports the higher power-draw required for most tablets. All units in the Blast series include a two-in-one power cable sporting a built-in micro USB to Apple 30-pin adapter.
As with any premium product, the Limeade Blast was designed with both function and style in mind. The soft, matte black finish and green LED charge-status indicators result in a sleek, modern look that obtains that rare ability to belong equally at the table in a business meeting or in a teenagers backpack.
Consumers can learn more about the Limeade Blast and can participate in the launch of this exciting new product as well as securing a Blast for themselves through pledges ranging from $ 49 to $ 99 by visiting our Kickstarter project:

http://www.kickstarter.com/projects/mylimeade/limeade-blast-18000mah-ultra-high-capacity-battery/
About Limeade

Limeade was established in 2013 in Boulder, Colorado. The company produces cutting-edge external batteries for smartphones, tablets and other devices, maximizing battery capacity within the smallest possible form factors by pushing the boundaries of what current technology will allow. The company is currently developing additional series to follow the release of the Limeade Blast. For more information, visit http://www.mylimeade.com.