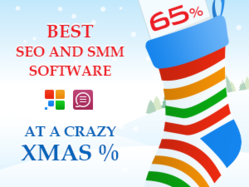 Minsk, Belarus (PRWEB) December 19, 2012
Link-Assistant.Com, major SEO and social media software provider and the company behind SEO PowerSuite and BuzzBundle, made their annual results public today. In the brief recap of the company's achievements of 2012, Link-Assistant.Com summarizes major feature updates, important content additions and stats following the launch of BuzzBundle. That said, the software house announced an unprecedented XMas sale to start on December 18th and close down in three days, on December 20th.
*Link-Assistant.Com's major 2012 achievements in brief*


Over 130 feature updates
Consistent performance and usability improvements
The quickest algo updates for the biggest number of search engines
Help guides and training materials on the most topical SEO issues
Brand-new social media management tool out in beta
"2012 has been an amazing and challenging year for our team," says Viktar Khamianok, CEO, Link-Assistant.Com. "We're excited with BuzzBundle success: launched out in beta only a month ago, it now has over 57,000 users."
"On the SEO side, 2012 has been rich in Google updates, and we take special pride that our customers have fully relied on SEO PowerSuite to comply with Google requirements and stay on top of search results," continues Viktar.
*Link-Assistant.Com's Christmas Sale*
To mark the end of the successful year, the software house comes up with a XMas sale that is far more than boring "click the link and get your discount." Everyone who visits Link-Assistant.Com's official website during December 18-20 are invited to take part in a hilarious game with Christmas spirit: depending on the sock they choose, theyll get 45%, 50% or 60% off SEO PowerSuite and/or BuzzBundle.
To stay in the know of the company news, read Link-Assistant.Com's SEO blog, connect with Link-Assistant.Com on Facebook fb.me/LinkAssistant, Twitter @LinkAssistant and Google Plus gplus.to/LinkAssistant.
*About Link-Assistant.Com*
For seven years, Link-Assistant.Com has been supplying the industry-standard SEO software for bloggers, webmasters and internet marketers under the trademark of SEO PowerSuite. Last month, the company has entered social media software market with BuzzBundle. This social media and reputation management app is meant for growing smarter, louder noise for brands online.
Contact: Ekaterina Stepanova, estepanova(at)ink-assistant(dot)com, +375296580408