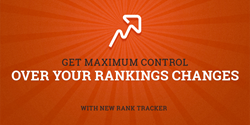 (PRWEB) September 02, 2014
Previously one could use Rank Tracker by Link-Assistant.Com, an established SEO software provider, to compare their websites keyword "rankings" (positions in Google or any other search engine) to a limited scope of results from the past: from 1 day ago, a month ago, a year ago, 3 years ago, etc.
Now this limitation is a matter of the past – starting today, Rank Tracker users can choose any date theyd like to compare their current rankings with, hence gaining unprecedented flexibility in analyzing their sites online dynamics.
New rank difference options in Rank Tracker
Rank Tracker is an SEO tool that allows one to monitor how easily their website can be found online by tracking its keyword positions in search engines and monitoring their dynamics over time.
And now, along the ability to choose any specific date to compare their present website rankings to, SEOs also get:
*A convenient menu for specifying the comparison date*

The menu is immediately accessible via the new Compare Results: button in Rank Tracker (a preview is available on this page)
*A new "Compare Results" button*

The new button is available in the main navigation menu and allows one to quickly edit comparison settings
*An easy way to choose the comparison period in reports*

One can now choose a comparison period when running a ranking report with one push of a button.
*A new "Previous Rank" column*

Rank Tracker will also display the actual rank one used to have (for example, if ones website used to rank number 7 for a particular keyword) at a specified moment in the past. The defined moment is the date one chooses to compare their current rankings to.
Instructions on accessing the new menus and columns in Rank Tracker are available at http://www.link-assistant.com/news/ranking-difference.html
Other Rank Tracker features
Besides allowing SEOs to track their and their competitors' search engine rankings, Rank Tracker offers a number of other powerful features SEOs can use to increase their sites' chances of being found in Google:


17 keyword suggestion tools
The Keyword Difficulty metrics that shows how competitive a keyword is
The "SEO and PPC" tab where one sees SEO and pay-per-click keyword statistics side by side
Integration with Google Analytics, which allows one to see web traffic arriving via certain keywords
Client reporting options that include reporting a sites visibility, search engine rankings and traffic statistics in an easy-to-grasp (yet detailed) manner.
*About Link-Assistant.Com*
http://www.link-assistant.com SEO software company has been providing premium-class SEO tools since 2004. Among its best-known products are SEO PowerSuite (a 4-app toolkit made of Rank Tracker, WebSite Auditor, SEO SpyGlass and LinkAssistant) and BuzzBundle, a social marketing tool that has been released in 2012, and has since gained popularity among thousands of SMM managers worldwide.
Keep abreast of the SEO industry follow Link-Assistant.Com on Facebook fb.me/LinkAssistant, Twitter @LinkAssistant or Google Plus gplus.to/LinkAssistant.