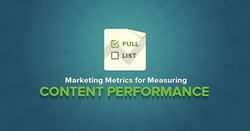 (PRWEB) February 10, 2015
Link-Assistant.Com, a well-known developer of SEO tools, has published a free online Guide to Measuring Content ROI. The guide contains an interactive part one can use to choose content performance metrics that correspond to their marketing goals, and learn about ways of tracking those KPIs.
"There's no denying that, today, content marketing has become an indispensable part of any marketing campaign," says Erin Madison, User Experience Manager at Link-Assistant.Com. "Yet many marketing folks are not familiar with the inner workings of marketing content – and this is exactly what our recent guide explains."
*Link-Assistant.Com on measuring content ROI the highlights*
The just-released content performance guide answers a series of key content marketing-related questions:


How do you measure content marketing ROI?
How can one estimate the value of each content piece: a blog post, an article, a video, etc.?
How do you align content creation efforts with your marketing goals?
Besides, the practical part of the guide dwells (in detail) on using three services – Google Analytics, SEO SpyGlass and WebSite Auditor – for tracking content effectiveness.
The section called "Using Google Analytics to Calculate Content Value" explains how marketers can learn the ultimate economic value of their content.
The chapter dedicated to tracking content performance with SEO SpyGlass provides practical tips on setting up KPI tracking in this famous SEO tool by Link-Assistant.Com.
And, the part titled "Tracking Social Media Shares in WebSite Auditor" demonstrates how one can track the popularity of their content in social media (Facebook, Google+, Twitter, LinkedIn, StumbleUpon, etc.) in particular.
The complete content marketing guide by Link-Assistant.Com is available at http://www.link-assistant.com/news/content-marketing-metrics.html.
*About Link-Assistant.Com*
Link-Assistant.Com is an industry-leading developer of online marketing tools. The company is best known for its all-in-one set of SEO tools, SEO PowerSuite, that is made up of Rank Tracker (a keyword research and a rank tracking app), WebSite Auditor (an SEO audit and a landing page optimization tool), SEO SpyGlass (a backlink checker) and LinkAssistant (a backlink development and link verification piece).