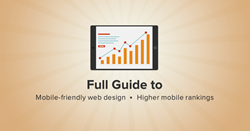 (PRWEB) January 27, 2015
Link-Assistant.Com, a decade-old provider of SEO tools, has published a free guide that covers mobile design basics, explains the difference between various solutions and dwells on ways to increase one's rankings in mobile search results.
The guide first explains the gist of Google's recent warnings to webmasters and what this means in perspective. It could be that Google is planning to place even more weight on mobile-friendliness as a ranking signal in the future.
The manual goes on to cover different mobile solutions that exist nowadays, going into detail about such approaches as:
1. Using responsive web design, which consists in making a site change its layout depending on the user's device.

2. Implementing dynamic serving, which means identifying the visitor's device and showing them a specific version of the site.

3. Creating a separate mobile website located at a separate web address (which allows for profound mobile experience customization).

4. Building a mobile app: although a pricey option, this is an absolute winner in terms of usability and brand awareness building.
More detail on how the 4 approaches compare can be found at http://www.link-assistant.com/news/mobile-seo.html
*Mobile web design best practices*
Another aspect covered in Link-Assistant.Com's guide is mobile web design best practices and common mistakes to avoid.
In order to earn the Mobile-friendly label from Google, a website has to refrain from using Flash and other technologies that are hard for mobile browsers to "digest"

.

The website's text should be readable without zooming in and its layout should be such as to spare one the need to scroll horizontally. And, the links on a page should be far enough apart to facilitate clicking.
There are also certain common mistakes to avoid:
-Blocking JavaScript, CSS or image files from search engines;

-Uploading unplayable content;

-Faulty redirects on a site;

-Mobile-only 404 pages;

-App download screen lockers;

-Irrelevant cross linking;

-Overly slow webpages.
*Mobile SEO tools*
The closing part of the whitepaper concerns mobile SEO and the tools optimizers can use to track ranking dynamics in mobile search results.
"These days, there aren't as many mobile-specific SEO tools in the market," says Erin Madison, User Experience manager at Link-Assistant.Com. "However, many providers are waking up to the necessity to cater for mobile. SEO PowerSuite's Rank Tracker, for example, tracks rankings in mobile search results on Google, Bing and Yahoo! So, when an SEO sees their mobile rankings aren't up to a par, they know they should act.
*About Link-Assistant.Com*
Link-Assistant.Com is an SEO software developer and the company behind SEO PowerSuite, a comprehensive set of tools that covers the entire SEO cycle. In 2008, with help from the company's partner Dan Richmond, Link-Assistant.Com released a practical guide to SEO seoinpractice.com, laying the foundation for future manuals on the subject of Internet marketing.