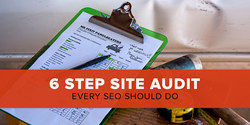 (PRWEB) April 08, 2015
Link-Assistant.Com, a marketing software development company and SEO PowerSuite maker, today published a guide on finding and getting rid of all technical on-site errors with the help of WebSite Auditor tool. Technical issues may be number one reason for holding sites rankings back and visitors not enjoying their site experience, so its crucial for site owners to fix them. WebSite Auditor is the on-page optimization tool in SEO PowerSuite toolkit, the all-in-one SEO software for agencies, in-house SEOs and individual site owners.
According to SEO PowerSuite team, before one starts optimizing web pages for target keywords, one needs to run a comprehensive site audit to identify and fix issues that may cost one search engine ranks.
The guide features the following steps:
1. Run a site scan.
For a start, it is suggested to let WebSite Auditor scan a website to collect all of its pages. This will let one make sure that the analysis performed later is 100% complete and none of the problem spots will be left unnoticed.
2. Check crawlability and indexing issues.
If a site is hard to crawl and index, lots of ranking opportunities are missed out on. The main aspects to pay attention to in this respect are proper indexing instructions in robots.txt files and proper pages response codes.
3. Fix redirects.
Redirects are crucial for getting visitors to the right page if it has moved to a different URL, but if implemented poorly, redirect can become an SEO problem.
4. Brush up the code.
Coding issues influence SEO and user experience: they tend to affect pages load speed, the way pages are displayed in different browsers, and how easily they can be crawled by search engine bots. With this in mind, the next suggested step is making sure ones page code is free from errors.
5. Take care of URLs and links.
From URLs alone, users and search engines should be able to tell what a page is about. In a similar way, links both internal and external need to be consistent and set up correctly.
6. Optimize titles and meta descriptions.
Relevant titles and descriptions can help ones rankings, not to mention they are used as snippets in search results.

The complete guide on fixing technical issues is available at http://www.link-assistant.com/seo-workflow/site-audit.html. This guide is part 4 of SEO PowerSuites workflow manual. Previous parts dealt with creating ones first SEO campaign, doing proper keyword research and accurate rank monitoring.
To get notified on the coming updates from Link-Assistant.Com, follow the company on Facebook fb.me/LinkAssistant, Twitter @LinkAssistant or Google Plus gplus.to/LinkAssistant.
About Link-Assistant.Com
Link-Assistant.Com is the company behind SEO PowerSuite – the all-in-one SEO software for search marketers, digital agencies and bloggers. SEO PowerSuite is a toolset made up of 4 individual tools Rank Tracker, WebSite Auditor, SEO SpyGlass and LinkAssistant delivering best results when combined. Link-Assistant.Com is a small and dedicated company that competes on software excellence and customer service. The company embraces the changing role of SEO in todays digital marketing world and believes that brands will keep relying on accurate SEO data to succeed online.