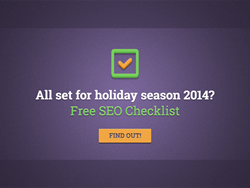 (PRWEB) September 16, 2014
The SEO checklist by Link-Assistant.Com is available in PDF, and one can use it to audit their site's state of SEO. The guide is suitable for a wide range of search engine optimizers – for those making their first steps in SEO as well as for seasoned SEOs who simply don't want to overlook any important SEO aspects in the process.
*What is inside the SEO checklist*
The PDF checklist consist of 10 chapters, each covering an important aspect of optimizing a website for higher positions in Google, Bing or any other major search engine.
Chapter 1 – Keyword Research

It explains how to quickly find profitable keywords for an SEO campaign.
Chapter 2 – Fixing site accessibility issues

Here one finds ways to ensure their content can be accessed and indexed by search robots.
Chapter 3 – Identifying URL issues

While one may think their site URLs are fine as they are, there are certain best practices that help make web addresses search engine-friendlier.
Chapter 4 – Site encoding and performance

Although perfect HTML is not required for a site to get decent rankings from search engines, cleaner coding and higher page load speed increase ones chances of outranking competitors in search.
Chapter 5 – Landing pages

This chapter covers all the key milestones of landing page optimization: assigning keywords, analyzing content, and more.
Chapter 6 Revising site content

This includes making sure one's meta titles and descriptions are not overly long and are displayed in full in search results. The chapter also dwells on reducing the number of outgoing links on pages.
Chapter 7 – Backlink analysis

When performing SEO audit, one cant overlook backlinks pointing to their site.
Chapter 8 – Link Outreach

Internet links from reputable sites are what often helps ones website show up higher in the search engines.
Chapter 9 – Measuring social impact

To expose a site to even larger online audiences, one should identify the networks that drive traffic to it and focus on them for future promo activities.
Chapter 10 – Tracking overtime progress

Its important to see how a sites SEO and traffic statistics change with time to identify effective optimization techniques and diagnose problems early on.
The full version of the SEO guide is available in PDF at this address – http://www.link-assistant.com/2014-seo-checklist.pdf
*About Link-Assistant.Com*
Link-Assistant.Com is a software developer with nearly a decade of experience providing SEO tools for online marketers. The company is best-known for its 4-app SEO toolset that includes the following programs: Rank Tracker, WebSite Auditor, seospyglass.com and LinkAssistant.
Keep abreast of the SEO industry – follow Link-Assistant.Com on Facebook fb.me/LinkAssistant, Twitter @LinkAssistant or Google Plus gplus.to/LinkAssistant and stay updated on the latest SEO news.