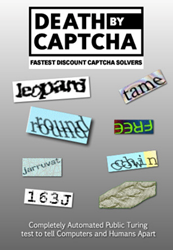 Minsk, Belarus (PRWEB) September 30, 2013
Link-Assistant.Com, the leading SEO software developer and the company behind SEO PowerSuite (a toolkit for all-embracing SEO) and BuzzBundle (a fully-fledged social media marketing platform), announced that the security of their software is now enforced with 'Death by CAPTCHA'. This is the second CAPTCHA breaking service the tools have been integrated with. Together with 'Anti-CAPTCHA', 'Death by CAPTCHA' helps the software users improve their search experience and collect the maximum of search engine data.
*What is CAPTCHA and why SEO tools need integration with CAPTCHA breaking services?*
CAPTCHA is a quite a common issue Web searchers frequently face. Irritating for humans, CAPTCHAs may often impede the proper work of SEO software – they interfere with the process of interaction between search engines and SEO tools, thus making data collection challenging and time-consuming. To bypass this issue, SEO software providers integrate their tools with CAPTCHA breaking services.