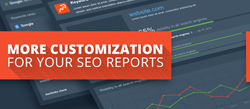 (PRWEB)
July 08, 2015
Link-Assistant.Com, the innovative SEO software company behind the cutting-edge SEO PowerSuite, announced today the addition of 4 new features to SEO PowerSuites SEO reports. There was a whole lot of ways one could personalize SEO PowerSuite reports already: using the drag-n-drop editor one could hand-pick the data to shape the final look of the reports. Today the SEO reports got improved in 4 more ways:
1. Tags can be used to filter data to be shown in the reports.
Users can specify tags in report settings to filter the data to include in their reports. Thus, they can run the reports for a certain portion of keywords in Rank Tracker, pages in WebSite Auditor, backlinks in SEO SpyGlass, and link partners in LinkAssistant.
2. Colors schemes can be hand-picked.
With today's update, all SEO PowerSuite apps let one create unique-looking reports with fully custom color schemes.
3. Report graphs can be displayed for any time period.
Users can specify any date range for each of the SEO PowerSuite report graphs to represent.
4. The contents of the reports can be edited in HTML.
SEO PowerSuite now lets users edit the contents of any widget with custom text in HTML in addition to rich text.
Up to 23% of our customers represent agencies of one type or another digital marketing agencies, web design agencies, web development agencies, PR agencies. Dealing with clients on a daily basis, they rely heavily on SEO PowerSuite reports, so its one of our top priorities to make sure the reports were offering are flexible and advanced enough to meet the daily needs of the agency folks, says Erin Madison, User Experience Manager, SEO PowerSuite.
SEO PowerSuites brand new reports are all one can expect from SEO reporting. Users can resort to numerous report templates that are totally editable or build report templates of their own. The reports utilize responsive design, ensuring an optimal viewing experience on desktops, laptops, tablets and smartphones, continues Erin.
More information on SEO PowerSuite reports is available at http://www.link-assistant.com/news/new-in-reports.html.
To try out the new reports, one can download SEO PowerSuite for free at http://www.link-assistant.com/download.html.
About Link-Assistant.Com and SEO PowerSuite
Link-Assistant.Com is a European software house and the maker of SEO PowerSuite, the all-in-one SEO software for search marketers, web design and web development agencies. SEO PowerSuite is made up of 4 individual SEO tools Rank Tracker, WebSite Auditor, SEO SpyGlass and LinkAssistant each tackling a specific area of search engine optimization and delivering best results when combines. As of July 2015, SEO PowerSuite has 570,000 active users. Over the decade on the market, the software has been downloaded by over 1 million people. To see how SEO PowerSuite compares to other tools, users can go through SEO software reviews.