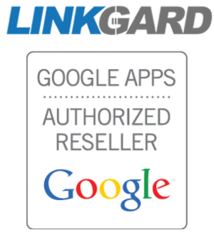 Glendale, CA (PRWEB) November 15, 2012
Linkgard International Inc., today announced it has become an authorized reseller of the Google Apps suite of communication and collaboration tools. LinkGard can now be found in the recently launched Google Enterprise Partner Search, a one-stop shop for Google Apps prospects and customers to find a local Google Apps Reseller worldwide.
In addition, LinkGard is pleased to announce three offers for new clients:


LinkGard will provide an annual security assessment of the customers website with the purchase of Google Apps from LinkGard (for 150+ mailboxes)
LinkGard will provide three free Google Apps Deployment consulting hours (for companies that purchase between 50 and 150 mailboxes)
LinkGard will provide five free Google Apps Deployment consulting hours (for companies with more than 150 mailboxes)
As a system administrator at California State University, Northridge (CSUN), where LinkGard President, Hovik Manucharyan, managed mail services for more than 30,000 faculty and staff, he voiced the painstakingly difficulty in securing these systems. Users navigating through their inbox sorting real mail from spam is an absolute productivity drain. Google Apps customers can better ensure data security and have readily available solutions that are no longer exclusive to those with high-end IT budgets. As a small company ourselves, we wanted to focus on our core skills in helping other small and medium-sized businesses reap the benefits of Google Apps, expressed Manucharyan.
As more customers requested their services, Manucharyan opted to become a Google Apps Authorized Reseller. IT and tech gurus worldwide will perk up knowing they can receive up to a 307% Return on Investment (ROI) with risk already factored into the equation (based on the Forrester study, Measuring The Total Economic Impact Of Google Apps A Cross-Industry Survey and Analysis). The study goes on to indicate that Google Apps customers break-even in under 7 months and that the Net Present Value (NPV) of switching to Google Apps is over $ 10 million for a typical large business, with $ 7 million in savings from productivity. IT Managers will no longer have to administer mail servers or nudge their bosses for exorbitant licensing fees.
Google Apps brings simple, powerful communication and collaboration tools to organizations of any size all hosted by Google to streamline setup, minimize maintenance, and reduce IT costs. With Gmail, Google Calendar, and integrated IM, users can stay connected and work together with ease. And, using Google Docs and Google Sites, which include word processing, spreadsheet, presentation and website creation tools, they can share files and collaborate in real-time, keeping versions organized and available wherever and whenever users work.
Tech savvy entrepreneur Hovik Manucharyan established LinkGard in 2004. Initially focusing his efforts on custom software development and information security, Hovik helps his clients implement their software solutions smoothly and seamlessly, transitioning every last detail. He welcomes your questions and can be reached through his website LinkGard.com.
The LinkGard mission is simple: We deliver seamless global IT service, through our passionate, results-oriented team. We bring integrity to any project, allowing the customer to feel secure knowing theyve received the best solution and value. We enjoy our global reach and happily accommodate our customers time zone requirements. Our work is timely, transparent and secure.
LinkGards philosophy is also simple:
We are the guardians of our customers data. We protect it like our own.
Our pristine reputation finds us our next customer.
As a small company, customers know each of us by name, reap the benefits of our values, vision and consider us to be part of their family. We hold this role sacred.
We have happy employees because we understand that happy employees provide better products and service.
Our commitment to 100% customer satisfaction is not lip service. We stand by our work and do not consider a task complete until the customer considers it complete.
###