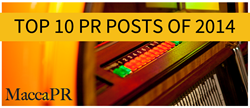 MINNEAPOLIS (PRWEB) December 30, 2014
The MaccaPR blog produced by Maccabee, the Minneapolis-based public relations and online marketing agency, is dedicated to inspiring chief marketing and PR officers, corporate communications directors and marketing professionals. For more than two years, authors Paul Maccabee, Christina Milanowski and others have posted about all things marketing and communications to great success. MaccaPR was named one of the "60 Best PR Blogs in the World by InkyBee and among the top 10 communications and PR agency blogs by Communications Degree Guide.
Recent MaccaPR blog posts have covered the secrets of YouTube marketing from Doritos, Disney and other brands; crisis communications flubs, insider tips on content marketing, media relations, how to market to women, use landing pages and search engine optimization; and insights for marketers from WestJets viral Christmas Miracle, Evians dancing babies and the creepy, crawly ad campaign from Orkin.
Among the dozens of blog posts in 2014, MaccaPR reports that readers resoundingly loved these 10 the most. Listed in no particular order, these received the most views and social media shares of all posts:

1.