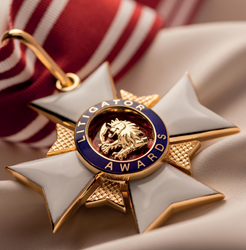 BELLEVUE, WA (PRWEB) August 03, 2014
The Litigator Awards redefine Americas perception of the way the nation sees and honors Trial Lawyers. They have been compared to a knighthood on Britain, or even the French Legion of Honor. As the only national Trial Law Rating based solely on Litigation Achievement rather than popularity, they stand as the most respected and sought after Award Rating anywhere.
The 2014 Litigator Awards will honor extraordinary Litigation Achievement in up to 72 Practice Specialties categories, representing a core range of specific fields expertise. Nominees are eligible to receive the Award Rating in as many as six Practice Specialties. For the public, referring professionals and their trusted clientele, the Awards provide a candid assessment of each Law Firms expertise, and an objective grade of their demonstrated past Litigation Performance by Practice Specialty – all of which help identify Best-In-Class Trial Lawyers.
Presenting unrivaled Public Relations opportunities, the Awards bear witness to extraordinary Litigation Achievement in:
General: Medical Malpractice, Personal Injury, and Wrongful Death.
Medicine & Drugs: Anesthesia Complications Anesthesia Complications, Birth Injury, Cerebral Palsy, Cosmetic Surgery, Harmful Drugs, Medical Misdiagnosis, Nursing Home Malpractice, Pharmacy Liability, and Surgical Error,