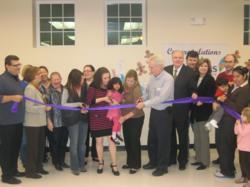 Brighton, MA (PRWEB) December 14, 2012
Little Sprouts, a leader in early education recently collaborated with the Presentation School Foundation to help build a community meeting room in the former Our Lady of Presentation School building. Restoring the structure to its former 1920s glory has been a community driven project since the school closed its doors in 2004.
The new room, appropriately named the Little Sprouts Community Room for Budding Scholars, will be used by Little Sprouts students as a gross motor space for indoor play. The rooms name reflects Little Sprouts Budding Scholars Approach to early education; focusing on the Citizen, the Scholar, the Mind and the Body. In addition to providing an active learning space for children to play, the community room will serve local non-profit organizations such as the Girl Scouts and the Gardening Club with a gathering place for meetings.
The opening of the community room is another example of the continuing benefits of the great partnership between the Presentation School Foundation and Little Sprouts. Jim Prince, PSF Board President exclaimed.
A ribbon cutting ceremony was held in Little Sprouts honor last Friday night marking the official opening of the room. Members from the Brighton community were joined by State Representative Kevin Honan and Allston-Brighton City Counselor Mark Ciomo, along with PSF tenants and Little Sprouts families and friends. Meghan McGinley-Crowe, Little Sprouts Associate VP of Education, spoke during the ceremony, recognizing the endless possibilities the room will provide.
McGinley-Crowe remarked, "It was great to see such an overwhelming amount of community support. It's what this new Budding Scholars room, and all of PSF exemplifies: a community joining forces to educate, develop and inspire learners, both young and old!"
Little Sprouts Brighton was opened in November of 2011 in Allston-Brightons Oak Square. The newly renovated school features two floors of learning complete with 3 Infant, 4 Toddler and 4 Preschool classrooms. In the past year, the school has created over 25 jobs and educated over 100 children. For more information about Little Sprouts, and to find a location near you, visit http://www.littlesprouts.com.
About Little Sprouts: Little Sprouts has been a leader in providing award-winning early education and care since 1982. Over 64% of Little Sprouts students score as advanced for early literacy development, with 25% of students being gifted. Little Sprouts is home to 17 schools in Massachusetts and New Hampshire supporting families that reflect 56 cultures, speaking 23 languages, from all different walks of social, economic, religious and ethnic backgrounds. To learn more about Little Sprouts and how they expand the power and potential of early education and child care, visit their website or call 877-977-7688.