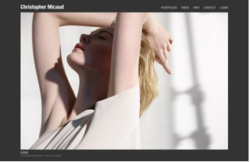 Sausalito, CA (PRWEB) September 06, 2012
liveBooks (http://www.livebooks.com), the leader in creating custom and predesigned websites for photographers, interior designers, graphic designers and artists of all types, today announced a range of new pricing options for its template website packages.
The predesigned website packages now include both the Enthusiast, at $ 9 a month, or $ 99 a year, and Emerging, at $ 19 a month, or $ 199 a year, packages catering to aspiring students, the growing prosumer market, and those early on in their careers. The liveBooks Professional packages remain at $ 39 a month or $ 399 a year, and offer premium designs, full support, and an array of professional tools such as email, design and font enhancements. Those interested can view and compare the available predesigned packages by clicking here.
liveBooks Core Features Help Customers Build Their Brand with Impact

All liveBooks custom and template websites offer:

Scaler, allowing sites to scale to fit perfectly on every browser
editSuite, liveBooks intuitive drag-and-drop content management system
Vimeo high-definition video integration
Social media customization (Facebook, Twitter, Pinterest and more)
Mobile compatibility for iPhone and Android
Unlimited galleries
Personalized URLs
liveBooks understands the artists mindset because thats who we are ourselves, said Andy Patrick, CEO of liveBooks. By introducing more flexibility in pricing we now offer packages for artists at all stages in their careers. Whether youre just starting out or youre a seasoned pro, we can help you move your business from where you are now to where you want to be.
I encourage everyone to come check us out, view examples of some of our top clients, including Chase Jarvis, Vincent Laforet, and Jared Platt and decide for yourself.
About liveBooks

Founded in 2005, liveBooks is the leader in custom and template portfolio websites for artists of all types. Over 15,000 of the worlds best photographers, interior designers, architects and fine artists use liveBooks to promote themselves online. Artists can create a predesigned liveBooks website in just hours, or collaborate with a liveBooks designer on a custom website design."
liveBooks offers a complete solution of the highest quality, leveraging its proprietary products such as Scaler, allowing sites to scale to fit viewers browsers, and its editSuite intuitive content management system. The Company also offers collaboration and support services such as SEO consultation and design services to help its clients develop their entire business. To join the liveBooks community and start your 14-day free trial, please visit http://www.livebooks.com.