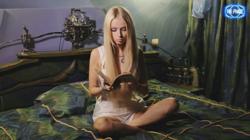 Los Angeles, CA (PRWEB) February 25, 2013
The OOBE Research Center is releasing its documentary 'The Phase' on the all-encompassing effect of the brain's phase state on the entirety of human history and culture, from ancient biblical miracles to contemporary alien abductions. "Real-life Barbie" Valeria Lukyanova stars in its lead role.
Valeria made her fame capitalizing on ideal looks and an incredible resemblance to Barbie. She has been the subject of countless news reports on hundreds of media outlets around the world, including Fox News, The Daily Mail, and V Magazine. However, the media's fixation on Valeria's external appearance alone instead of her more intellectual and spiritual pursuits has always been a source of concern for her. That's why she took part in an extremely unconventional and hard-hitting documentary.
'The Phase' is based on three sensational experiments conducted in Los Angeles in 2011 and 2012. As a result of these studies, volunteers experienced artificially-induced close encounters of the third kind, the biblical miracle of Elijah's encounter with an angel, and textbook "near-death experiences" (NDEs). The "phase" is a recently-minted term for all states in which centers of consciousness activate during REM sleep. The film's creators believe that religions and regimes benefiting from mass delusion silence or censor any and all discussion of it.
Despite Valeria's admittedly mystical take on the nature of the phase phenomenon, film producer Michael Raduga ( http://www.obe4u.com ) saw in her the ideal communicator of film's scientific message, saying, "First, I'm quite sure that the phase is a central pursuit for Valeria, whatever her views. Second, she definitely made the film easy on the eyes." Valeria took part in shooting the film in October 2012 in Crimea, Ukraine. The film is the work of more than one hundred people from over 10 countries around the world.
All 33 minutes of it is up for your reviews and comments on YouTube: http://www.youtube.com/watch?v=XsE4mdB1-t4