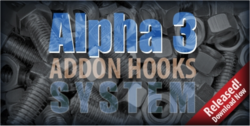 Atlanta, GA (PRWEB) April 10, 2013
Alpha 3 version of Loaded 7 has been released with impressive new features and updates. Not only does it offer more payment options, more social networking support, and a QR code generator for URL sharing, but it also features the first look at their new Add-on Hook System.
Those who download and install Loaded 7 as their shopping cart software will appreciate the Add-on Hook System. Add-ons hook into the core using a virtual file modification system. Therefore, no actual code changes are made in the core software. Merchants can update the core or the Add-ons without affecting each other. It also allows them to hook into any core logic at run time without overwriting the physical files where the core code can be found. This lays the groundwork for Loaded Commerce new Add-on Store framework which will be central to customizing Loaded 7 for retailers. CEO and founder of Loaded Commerce, Salvatore Iozzia states, "Alpha 3 brings us one step closer to the promise of a truly extensible, high performance, ecommerce platform. With the Add-on Hook System there is no limit on what developers and merchants can do with the application."
With Alpha 3, payments are also made easier on Loaded 7. It offers the Certified PayPal Advanced Payment module. This module processes the new payment options for PayPal including PayPal Payments Advanced and Payflow Link, PayPals gateway offering. PayPal Payments Advanced supports a secure payment iframe, which allows secure acceptance of credit card data for PayPal Payments Advanced and Pro merchants without any redirection to a external site. Also, Loaded 7 now offers the CRE Secure Universal Hosted Payment Page module. Because it uses an iframe as well, payments and card data are kept safe and secure. With these and other payment modules in Loaded 7 merchants dont need to worry about credit card data handling because the data is not stored or even seen on their server. In addition, the payment forms are seamless and mobile ready.
Loaded 7 now supports the Open Graph Protocol, which provides merchants the ability to protect their image when their URL is being shared in social networking platforms. In addition, when their online store URL is being shared, the title, image and description of the retailers site will be presented in a clean accurate fashion. Facebook and other social networks support Open Graph Protocol and Loaded 7 is one of a very few open source applications to include this support.
Lastly, Loaded 7 have added a QR Code generator to each page of the default template and admin. The QR code icon can be scanned with a mobile phone or tablet thus taking the user to that URL on the device. Shoppers can then easily share the URL from their mobile device; continue to browse the store and more.
You can download the Alpha 3 version of Loaded 7 here.
Save on Loaded 7s Pro and B2B by preordering now and receive an extended renewal period on updates and a $ 100 coupon to Google Adwords. Click here to pre order Loaded 7.