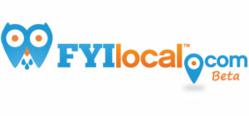 Toronto, Ontario (PRWEB) September 27, 2012
Seventy two percent of buyers trust reviews as much as personal recommendations according to Miles Anderson from Bright Local. And a local authority directory that offers consumer reviews of local businesses can be a major player in the ecosystem of online consumer reviews. FYILocal.com is aiming at becoming a trusted online consumer review source of local businesses.
An advertisers business reputation is in the hands of the consumer and they are powerless to prevent online reviews of their products and services. Customer reviews are a major factor in almost every type of online marketing. And thats because both good and bad reviews show up in Google maps, Google Plus Local, Facebook, Twitter and major directories such as Yelp and City Search and Bing and Yahoo, in Yellow Pages.
Businesses that invest time and money in social media, Pay Per Click advertising, local marketing, and search engine optimization can find their efforts are fruitless if they have even a few negative reviews. Businesses are learning that they need to manage their online reputation and that they should have strategies to deal with bad reviews or a bad reputation online.
Similarily, businesses that are proactive in marketing a positive reputation discover that consumer reviews generate prequalified, presold customers because buyers trust reviews as much as personal recommendations. FYILocal.com Marketing Manager Wilf Barnes puts it simply: "reviews can be incredibly bad for your business if they're bad and they can be incredibly good for your business if they're good".
Some industry experts have claimed that three out of four people trust reviews just as much as personal recommendations. Consumers are also believed to look up an average of 10 reviews before making a decision leaving room for FYILocal.com to enter the online review space.
Barnes recommends that "businesses should create a referral plan and then proactively market the positive reviews that they attract". Other industry statistics suggest that consumers trust a business that has a minimum of 6 to 10 reviews. FYILocal.com allows an advertiser to attract reviews on their business place pages and overtime, these reviews can become quite meaningful to the effectiveness of their local marketing efforts.
About FYILocal.com
FYILocal.com is an emerging, local web presence business directory that has launched as a live beta site. FYILocal.com presently hosts location based information for a variety of Canadian businesses in addition to local event listings and classified ads.
For more information, go to FYILocal.com. Questions can be directed to (289) 752-7335 or toll free 1-888-975-9222 email: info(at)LocalHood(dot)ca