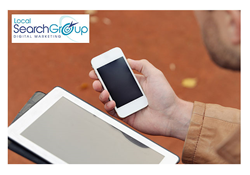 Houston, TX (PRWEB) November 24, 2014
Local Search Group now offers their cutting edge techniques in mobile marketing to the petrochemical and medical industries. With service offerings that include social media management and SEO solutions, mobile marketing is an important part of a strategic marketing plan.
Jim Flint, President and Founder of Local Search Group states, Mobile marketing evolved in the last several years. In the beginning, we put a display banner in front of a consumer on a mobile phone. Now, recent technological development empowers advertisers to communicate directly with consumers when theyre in a position of movement. The rapid adoption of the smartphone has prompted the creation of geographic mobile targeting, so that advertisers reach clients at the perfect time.
For example, a consumer looking for a doctor wants to find the closest practitioner. Local Search Groups mobile marketing techniques ensure that our medical clients information is at the top of the mobile search results. Flint explains as there can only be a select few ads displayed on a mobile search, the return is significant. Our clients are able to focus a portion of their pay per click campaign funds on mobile customers, and those are wisely invested marketing dollars.
According to a new Forrester Research report, many businesses fail to take advantage of the specialized manner in which they can reach their customers. Companies post ads directed to an age group or zip code, although the opportunity to drill down to a much more specific consumer is available. Local Search Group brings the expert knowledge that organizations need to engage in the right way at the right time. Our team excels at focused marketing that gets ads in front of consumers at the bottom of the purchase funnel, when theyre on their mobile phones, says Flint.
Local Search Groups expertise has served the automotive industry well, providing clients with customers who are nearby and ready to make a purchase. Flint and his group place ads for vehicles based on specific information such as the income level of the buyer, their mobile shopping habits, and their rate of technology adoption. This microfocus on the consumer and knowledge of their clients needs, sets Local Search Group apart from the competition.
Businesses cannot ignore the rate of smartphone adoption. Mobile website visits are on the rise, and people dont leave home without their phones. Organizations that dont get on-board now will be left behind as their competitors see an overwhelming return on their mobile advertising investment, states Flint.
###
Local Search Group was founded in 2010 and houses its operational headquarters in Houston, Texas. They comprise a staff of certified online marketing experts and the ability to meet the needs of both B2B and B2C clientele. Founder Jim Flint started his career by supporting the marketing efforts of major marketing corporations like Nike and Toyota. He and his team understand the needs of businesses ranging from the Fortune 500 to innovative startups. Contact a Local Search Group expert for a complimentary online marketing business evaluation via email or by phone at 1-713-493-7735.