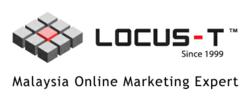 (PRWEB) February 21, 2013
LOCUS-T is an ISO 9001 QMS Certified Company offering advanced internet marketing strategies across Malaysia. It is the first homegrown internet marketing company in the country. LOCUS-T has over 12 years of experience in providing the best of web development solutions to online businesses irrespective of size and complexity.
LOCUS-T is a Google AdWords Certified Partner, Yahoo Search Marketing (SEA) Authorized Reseller, and the official PayPal partner in Malaysia.This on-demand internet marketing solutions provider aims at expanding its business in the whole Asia-Pacific region. LOCUS-T promises to deliver world-class online e-commerce, web development, and internet marketing services to its clients.
For years, the company is functioning in Malaysia and Singapore with great profitability and offering utmost customer satisfaction. LOCUS-T has an experienced Research & Development (R&D) team that continuously works towards understanding the needs of the target audience and accordingly helps the web design and development team to come up with a range of high-quality, business oriented solutions. For years, LOCUS-T is engaged in making people aware of the benefits of Google AdWords and increased internet marketing to reach out to more potential audience on a global scale.
Online advertising provides a unique way of arousing the curiosity of maximum people towards a specific product or solution. Perhaps the best way of online advertising is via Google AdWords. Both small and large organizations can use the Google platform to promote their products, solutions or events free of cost. Google charges a company only when a potential buyer clicks on the ads.
According to various studies, every 8 out of 10 Malaysian customers check online ads to make a purchase. Pay Per Click (PPC) ads on Google and Yahoo helps a business get higher traffic to their website leading to increased products sale and ROI. Being a certified PPC company, LOCUS-T helps a business successfully plan and promote online internet marketing campaigns. With the assistance of the company's expert consultants, organizations can see their web/landing pages performing exceptionally within a short span of time. Google AdWords remain live 24/7 and organizations have complete control over their ads to change it or remove at anytime.
As a solution provider, LOCUS-T works closely with the customers to customize various web or e-commerce services to meet their urgent business requirements. The company tries to exceed its customers expectations by creating simple, user-friendly e-commerce and web development solutions. LOCUS-T follows a money back policy for its Search Engine Marketing (SEM) and Web Development projects in case a customer is not satisfied with the end-result. To get more information about this company and services offered, click on http://www.locus-t.com/ppc/
About LOCUS-T

LOCUS-T is a leading ISO 9001 Quality Management System certified and the first homegrown internet marketing company in Malaysia. The company is also a Google AdWords Certified Partner and Yahoo! Search Marketing (SEA) Authorized Reseller. LOCUS-T is offering world-class internet marketing, e-commerce, and web development solutions in Malaysia and Singapore for the last 12 years.
Contact

Company Name- LOCUS-T

Telephone Number- 603-7118 2173

Fax Number- 603-7118 2176

Email Address- sales.my(at)locus-t(dot)com

Website Address- http://www.locus-t.com