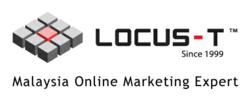 (PRWEB) December 27, 2012
Founded in Malaysia, LOCUS-T is a leading online marketing company in Malaysia & Singapore that offers a wide range of online marketing services. LOCUS-T has recently introduced an effective Google Adwords service that can benefit client businesses by broadening the exposure of their client websites. One of the most attractive advantages of PPC service is that is enables the advertiser to target their target audience precisely, those most likely to be interested in their products and services.
One of the highlight aspects of LOCUS-T is that it is utilizing the unique online marketing strategies. As the company has more than 12 years solid experience in the online marketing industry, the company continuously comes up with beneficial strategies & knowledge that promise the client highest return on investment.
Besides, LOCUS-T is also the first Google Adwords Certified Partner in Malaysia, to keep its excellent standard in Google Adwords services, the company regularly received training invitations by the professional from Google SEA. Thus, LOCUS-T is able to obtain latest knowledge and updated information about Adwords services. By going through those intensive training, LOCUS-T could help their clients to achieve better campaign performance, in term of higher CTR, lower Cost per click and more.
Another element that stands between LOCUS-T off their competitors is the fact that the company is offering detailed report and analysis to their clients once the campaign has ended. Once the campaign ended, the expert in LOCUS-T will help to assess the campaign performance, offering useful guidance and advice based on the results and available statistics. By doing this, it is beneficial to the client businesses.
Talking about their advanced Adwords services, a spokesperson at LOCUS-T indicated that clients who wish to strengthen their online presence and want to indulge in online marketing aggressively will be able to analyze the local market easily and will also be able to identify keywords that people use while searching for specific content. In return, helps businesses to improve their sales & ROI.
LOCUS-T is an experienced company in Malaysia who is specializing in offering unique & effective online marketing services, covering areas such as PPC service, SEO Service and more. For more information about the company, visit: http://www.locus-t.com
About LOCUS-T
As an ISO 9001 certified company, LOCUS-T offers effective Internet marketing strategies that bring in the highest return on investment for the client. It possesses a result-driven approach and researches about the preferences of the target audience for fulfilling its goals.
Contact

Company Name- LOCUS-T

Telephone Number- 603-7118 2173

Fax Number- 603-7118 2176 (Malaysia)

Email Address- sales.my(at)locus-t(dot)com

Website Address- http://www.locus-t.com