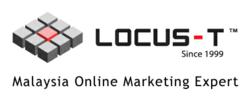 (PRWEB) May 02, 2012
LOCUS-T, the search marketing expert, does not only serve its clients with a wealth of expertise in search engine optimization (SEO), pay per click, online reputation management and E-Commerce plus but also introduces their customized solutions for website design services.
Providing accessibility through its site at http://www.locus-t.com and through https://www.facebook.com/locustonline, LOCUS-T features the importance of new media as an amplifier to gauge clients needs through use of interactive platforms, highlighting the need to have a fully functional site.
With the rise of new media, the importance of establishing the first contact with potential clients is crucial, hence the necessity of web designs that not only merely cater to the potential clients needs, but also their future customers. LOCUS-T understands the necessity of building a long standing relationship with clients in this digital age that is largely reflected in the site development created by their experts. Thus, LOCUS-T is now offering their unique expertise in web development and designs ensures that when a user surfs on a web site created by LOCUS-T experts, the user is engaged to create a strong bonds or ties between clients and customers.
Its expertise in Search Engine Optimization or SEO also ensures that upon site completion, a clients business is ranked higher among their competitors, giving them a competitive edge in the industry. In addition, clients who engage with LOCUS-T services, not only experience faster loading times of their sites, cross-browser compatibility, clean layouts but also on-site web developments.
LOCUS-T 12 years of experience in the industry of web development puts them in the forefront of the creation of effective websites that is not limited to technical aspects of web designs but extends further to include considerations made of future customers buying behavior on the site. Their attention to detail in this regards puts them as a top contending site when it comes to creation or development of websites.
Deric Wong, Head of Operation at LOCUS-T said that the ever-changing trends of online behavior, industry and customer expectations are within LOCUS-Ts grasp as they have the expertise to understand and gauge each clients needs, industry requirements, client database and engagement levels by ensuring two-step communication with the client throughout the process of web design.
At LOCUS-T, we pride ourselves in customizing solutions for clients depending on their needs, customers and industry. We do not believe that one solution fits all, hence giving us a competitive edge against the many web site developers in the market, he said.
About LOCUS-T:
LOCUS-T is search marketing expert, offering clients a wealth of expertise in the areas of SEO[Search Engine Optimization], PPC [Pay Per Click], Online Reputation Management and E-Commerce Plus. It is the first home grown Malaysian Internet Marketing Company to be certified as Google Adwords Partner, it serves not only as the reseller of Yahoo Search Marketing [SEA] Authorized Reseller, but also hold a prominent role as an Official PayPal Partner.