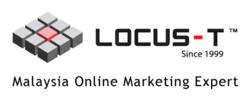 (PRWEB) February 27, 2013
LOCUS-T is a reputed Google and Yahoo certified company operating in Malaysia and Singapore for 12 years. The company proves to be an expert in planning and strategizing online adwords campaigns for different online businesses with the aim of achieving higher clicks and maximization of ROI.
LOCUS-T has an expert team of professionals who works closely with each customer to understand their unique business needs. The company has achieved ISO 9001 Quality Management System certification for providing the best of on-demand online marketing, e-commerce, and web development solutions across south East Asia. Google Adwords Remarketing Packages as introduced by LOCUS-T aims to increase traffic to a website in turn leading to higher sales and profit.
PPC or Pay Per Click campaign is very popular worldwide. Businesses of any size and type create adwords on Google or Yahoo that helps to increase awareness of a product or service leading to clicking on the advertisement with the aim of purchasing the item.
As the first home grown Google AdWords Certified Partner in Malaysia, LOCUS-T provides high quality Google AdWords management solutions, online marketing, and PPC services across the country. All consultants of the company are trained directly by the Google and Yahoo South East Asia experts and the team promises to help online businesses reach newer heights with maximized website visits and higher revenues generation.
LOCUS-T helps companies create exceptional Google AdWords to attract new potential customers to their website. LOCUS-T introduces the Google Adwords Remarketing campaign which is a feature that lets their clients to reach people who have previously visited their company website, and show them relevant ads when they visit other sites on the Google Display Network if they left the website without purchasing, and this feature is proven to be able to increase business sales conversion!
PPC campaigns on the search engines Google or Yahoo remains live 24/7 for anyone to see the displayed advertisements. An organization can easily modify or remove an ad to meet its business requirements. Google AdWords are quite inexpensive compared to other types of online advertising. People need to pay only RM0.50 to RM1 once a person clicks on such ads. Whats more! LOCUS-T lets their customers to enjoy RM600 worth of credits for just RM300. It helps in putting up Google AdWords at the most reasonable rate thus letting the company have a long list of loyal customers including MYOB, HITACHI, Symphony, and more. To know more about this company, click on http://www.locus-t.com/ppc/.
About LOCUS-T

LOCUS-T is the most well-known ISO 9001 QMS certified company in Malaysia. It is also a Google AdWords Certified Partner, Yahoo! Search Marketing (SEA) Authorized Reseller, and an official PayPal partner across the country.
Contact

Company Name- LOCUS-T

Telephone Number- 603-7118 2173

Fax Number- 603-7118 2176

Email Address- sales.my(at)locus-t(dot)com

Website Address- http://www.locus-t.com