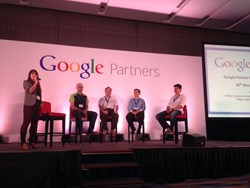 (PRWEB) November 29, 2013
Based in Malaysia and Singapore, LOCUS-T is a renowned internet marketing and web development company, having 14 years of experience in providing internet marketing services in both the countries. The company is much famous throughout Asia for being capable enough to enhance any online business presence while ensuring that the website meets the right audience aptly.
LOCUS-T has recently been invited by the Google Partners Launching Event. The event was organized at Aloft Hotel in Kuala Lumpur Sentral on 20th November, 2013. The official launch of the Google Partners Program invited some of the reputed online marketing agencies to the event and LOCUS-T was one of them. The event began at 6 pm with fun photo taking sessions, which was simply enjoyable. The main aim of the Google partners event was to assist agencies in achieving the Google Partner badge. It was revealed that only the genuine agencies can earn Googles seal of approval and get themselves listed on Google Partner Search. The result of getting listed will definitely be generation of valuable new leads, thus enhancing business growth.
During the event hours, Joseph Ting, Head of Sales of LOCUS-T was invited as one of the guests in the panel discussion session. Experiences with Google Partners, feedback on Google support system, and expectations on Google support system were the chief points of discussion. The other three panelist personalities were Stanley Chee-CEO of Gapture, Johnson Lai-Director of Optisage Technology and Larry Lim-Co-founder of SearchGuru. All discussed about their experiences on Google Adwords and feedback on Google Support system, helping all to get detailed information and gather good knowledge.
All in all, the event was managed wonderfully with games, prizes, goodie bags, food, wines and much more.
About LOCUS-T ONLINE SDN BHD

LOCUS-T is a Malaysia and Singapore based internet marketing and web development service provider known for top solutions and services in the field. It is a 14-years old company and has gained a lot of certifications till date, which include ISO 9001 Quality Management System, Google Partner and Yahoo! Search Marketing (SEA) Authorised Reseller.
Contact

Company Name- LOCUS-T ONLINE

Telephone Number- + 603-7956 2173 (Malaysia)

Fax Number- + 603-7956 2176 (Malaysia)

Email Address- sales(dot)my(at)locus-t(dot)com

Website Address – http://www.locus-t.com