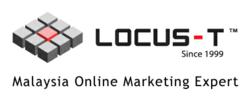 (PRWEB) December 17, 2012
In this coming festive season, LOCUS-T has launched affordable website design packages for SME businesses to allow them to bring in more online business. LOCUS-T has launched different types of website packages which consist of professional website packages, corporate website as well as creative website packages. In the digital age, LOCUS-T believes that every company should have a website. When a company has a strong presence online, it is able to impress potential clients and customers. Therefore, web users are more likely to choose their services than another company which has also been found online. Although a business can design a website themselves, it is highly recommended that a website is designed by a company that has helped many other businesses and brands to have a website that effectively displays their services LOCUS-T has a proven track record in website design.
As the festive season is just around the corner, LOCUS-T has launched a few affordable website design packages that enable their clients to enhance their online business. Creating websites which have the X-Factor, LOCUS-Ts passion for website design means that every website which they are responsible for is exactly what a company wants. LOCUS-T believes that a web user should know about a brands values as soon as they view a website.
"LOCUS-T will design a website that is about a companys core competencies and will also take into consideration customers searching behaviour and reading behaviour", said Deric Wong.
"LOCUS-T never uses a one size fits all approach to website design because every website should be unique and individual", added Deric Wong.
Once LOCUS-T has completed website design, it can then be used for online marketing purposes and LOCUS-T is able to carry out a wide range of Digital Marketing campaigns.
"Recently, LOCUS-T also launched the effective SEO packages which have a demonstrable high success rate for clients," said Deric Wong. When a company chooses LOCUS-T to complete both website design and online marketing, it will soon achieve a high search ranking and be noticed by individuals who could increase revenue substantially.
About LOCUS-T ONLINE SDN BHD

As a very successful website design company that always puts the needs of their clients first, LOCUS-T can create websites that clients want so that new online business can be achieved. Since LOCUS-T can do many online marketing services as well, a business can have the online presence it wants when it gets help from the experts.
Contact

Company Name: LOCUS-T ONLINE SDN BHD

Contact Person: Deric Wong

Telephone Number: +603-71182173

E-mail Address: sales.my(at)locus-t(dot)com

Website Address: http://www.locus-t.com