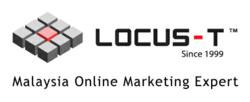 (PRWEB) May 21, 2013
Having helped scores of domestic businesses courtesy of its SEO Malaysia services, LOCUS-T has a proven track record in improving the online presence of everyone who comes to them for help. If businesses in Malaysia have not benefitted from a high ROI (Return on Investment) with the other digital marketing agencies which theyve previously hired, LOCUS-T does everything they can so that this doesnt happen again.
More than sixteen million web visits are carried out in Malaysia every day. In fact, two billion people around the world have access to the internet. This is a great opportunity for businesses, especially as both a fall in profit margins and popularity can be overturned thanks to LOCUS-T. Due to their organic approach to SEO which continues to work, LOCUS-T can help their clients to achieve the results they are looking for. They will also make sure that every penny is spent wisely on generating leads and additional custom. The first company in Malaysia to be a Google AdWords Certified Partner and Yahoo! Search Marketing (SEA) Authorised Reseller, LOCUS-T not only has the relevant expertise.This is because they can also get solid results – this demonstrates their professionalism and commitment to providing the best possible and most effective SEO Services around.
LOCUS-T adopts a unique approach to generating decent ROI for its clients. Combining their experience in SEO with evolving trends in social media, LOCUS-Ts SEO Plus solution continuously looks for ways to increase traffic. For new websites, LOCUS-T can help them to create a brand. If it has a webshop, LOCUS-T will utilise SEO so that concrete leads are generated which can lead to repeat business. By creating a stir about their products, a greater awareness about them will happen.
Throughout the whole process, LOCUS-T will lead a close working relationship with their clients. At no point are they unsure about the progress of their SEO campaign. This is because LOCUS-T provides regular updates about what is happening, such as how effective their campaign continues to be. LOCUS-T even sets up regular meetings in order to give an in-depth update.
About LOCUS-T ONLINE SDN BHD
LOCUS-T is an experienced company that has been responsible for many SEO campaigns for businesses not just in Malaysia but around the world. LOCUS-T was the first ever company in Malaysia to be a Google AdWords Certified Partner and Yahoo! Search Marketing (SEA) Authorised Reseller and they guarantee a high ROI for each and every business.
Contact

Company Name- LOCUS-T

Telephone Number- 603-7956 2173

Fax Number- 603-79562176

Email Address- sales.my(at)locus-t(dot)com

Website Address- http://www.locus-t.com