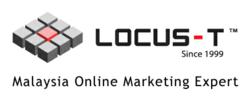 (PRWEB) April 25, 2013
LOCUS-T is one of the first internet marketing companies in Malaysia who was certified as Google AdWords Certified Partner. With over 14 years of experience in handling more than 1,000 clients in Malaysia & Singapore, the company can vouch for a satisfactory Return of Investment (ROI). LOCUS-T had recently launched an affordable Adwords Packages with Remarketing campaign recently as they are aware of its importance.
LOCUS-T has been invited to a public talk recently to discuss the importance of engaging with Google Adwords Service."The biggest advantage of using Google Adwords as a marketing option on the internet is the simple fact that it is easy. There is no minimum spending limit with Google AdWords. Unlike other services which are ticket based, AdWords allows an unlimited amount of changes to an account per month", said Deric Wong during the talk.
LOCUS-T, the search marketing specialist in town, has recently shared the importance of Adwords services in a public talk."Google Ads is usually appear primarily on the right hand side of the screen or above the search results and are titled sponsored links, and hence do not look like the normal banner advertisements which get dismissed quickly",said Deric Wong. These advertisements appear when a users search query includes a keyword that is part of your ad campaign, and hence, the lead management system is robust and exact ROI (return on investment) can be measured quickly.
"The days of flashy websites, non-web promotions, and outdated decorations are pass