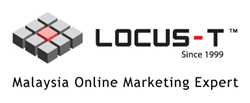 (PRWEB) April 30, 2014
In an age where computers, smartphones and the internet dominate our daily lives, most people would turn to search engines like Google and Yahoo! to look for something, be it information, products or services of any kind. As such, it becomes crucial to have a website show in relevant result pages to stay ahead of competitors, and that is where Search Engine Optimization (SEO) and SEO companies come in. When it comes to SEO, few do it better in Malaysia than LOCUS-T.
LOCUS-T is the first and currently the only SEO company in the country with official and certified partnership and reseller statuses with three of the biggest names in the search market Google, Baidu and Yahoo!. In the past 14 years since the companys inception in late 1999, LOCUS-T has delivered satisfying results to more than 1000 clients in Malaysia and Singapore. As part of the home grown SEO companys dedication, professionalism and confidence in delivering visible results, aside from customizability of all LOCUS-Ts packages according to specific needs and nature of the businesses of clients, they all come with money back guarantee policies as well.
Due to potential increase in revenue as a result of increased traffic of targeted clients and customers directed to the websites of businesses and brands brought by SEO, the service can appear to be something exclusive to large businesses. One of the factors that got LOCUS-T to be where the company is now as a SEO company is inclusiveness, where affordable customized solutions are offered to companies of all sizes and nature of business. To further save clients time and hassle involved, LOCUS-T now offers new SEO packages to Malaysian businesses at even more competitive prices, allowing clients to achieve an even higher Return Of Investment (ROI) with their investments.
Other than serving businesses which are familiar with the internet and have always had online presences, the company is just as ready to be of service to any businesses which would to expand and grow via the power of the internet. As such, despite being branded as an SEO company, LOCUS-T also provides a variety of web development services incorporated within the SEO business model, saving businesses time and money, as well as any concern regarding discrepancies which may arise from having SEO and website done by different companies. New packages are also provided, incorporating SEO services currently, all of which also come with money back guarantees as proof of confidence in the capabilities of the SEO companys web development services.
Regardless of specific nature and type of businesses, as long as it is related to pinpointing and attracting more target audience, directing more traffic into websites and driving up revenue, suitable solutions can be found in LOCUS-T.
About LOCUS-T ONLINE SDN BHD

LOCUS-T is a company experienced and specializes in various internet marketing based services, working closely with and has earned partnership and reseller statuses with three well-known search engines Google, Baidu and Yahoo!. The company follows strict protocols and is dedicated in delivering services that are of the highest quality to clients.
Contact

Company Name- LOCUS-T ONLINE

Telephone Number- + 603-7956 2173 (Malaysia)

Fax Number- + 603-7956 2176 (Malaysia)

Email Address- sales(dot)my(at)locus-t(dot)com