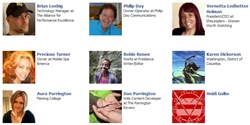 Bethesda, MD (PRWEB) September 30, 2013
Loebig Ink Consulting, a small business coaching firm specializing in Internet business solutions, coaching and SEO strategies has expanded it's web management team to include ten dedicated and experienced professionals with expertise in web programming, copywriting, graphic design, web hosting and content management. The recently expanded team of small business entrepreneurs include a diverse collection of professionals from around the country and Canada. These experienced professionals form the core subcontracting team that help support clients of Loebig Ink Consulting.
Robert Dorfman, from Warrington, PA, is a senior marketing and branding professional and owner of Peregrine Associates. As an original team member, Robert's specialties include high-end graphic design and specialty products. Visit his business site at: PeregrineAssociates.com
Ted Tyree, from Landsdale, PA, is owner of TheWebsiteParkingLot.com and senior technical programmer for Loebig Ink. He is also an original team member and Internet hosting pro.
Lamar Childs, from Philadelphia, PA, is an SEO and eCommerce specialist with Loebig Ink and provides business development services in his own consultancy. Visit one of his recent business projects: Papertowncycle.com
Philip Day, from Charlottesville, VA, is the driving force behind Philip Day Communications and has expertise in copywriting, voiceovers, web content and social media management. Visit him on Twitter at: @PhilipDayCom
Robin Renee, from Atco, NJ, is a multi-talented writer, blogger, voice-over specialist and professional musician. Visit her business website at: http://philadelphiacopywriting.com
Precious Turner, from Richmond, VA, is an ECPI College of Technology trained, business analyst with expertise in social media management, WordPress, Javascript, SQL and other web technologies. Find her on Twitter: @PreciousLTurner
Aura Parrington, from Ontario Canada, is the most recent addition to the team with experience in social media management and human services. Find Aura on twitter @aura_birdie
Dan Parrington, from Ontario Canada, is a WordPress pro with extensive blogging, content management and copywriting experience. He authors The Parrington Review: ParringtonReview.com
Angela Martinez, from Puyallup, Washington, is a digital design expert with Art Institute credentials to boot! Find her at: about.me/angela.martinez
Vernetta Holman, from Philadelphia, PA, is the President/CEO of SheLeaders.com and is an experienced social media manager, business consultant and small business coach. Visit her site at: SheLeaders.com
Heidi Galke hails from Philadelphia, PA, and is an experience social media and brand manager. Find her at: @RenderNegative
Karen Dickerson is from the nation's capitol in D.C. and is a prolific international business writer, blogger and multi-lingual web content management pro. Find her at: about.me/karen.dickerson
Established in 1999 as a web design services business in Philadelphia, PA, Loebig Ink, now located in the Northern Virginia/Maryland/Washington, D.C. area, is a small business consulting firm specializing in Internet business solutions, performance improvement consulting, and small to medium-sized business development. Services at Loebig Ink include Web Design, Search Engine Optimization, Social Media Marketing, and Online Advertising. Owner and Head Coach, Brian Loebig, has over 15 years of experience working in the fields of technology and quality improvement.