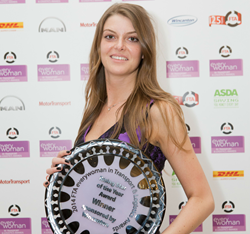 (PRWEB UK)
3 July 2015
A year ago Anna Kozlowska won the the FTA everywoman in Transport & Logistics Rising Star Award 2014. Now, in a passionate new guest blog for international courier ParcelHero, Anna has revealed why – contrary to stereotype – the logistics industry has many opportunities for women.
She says: Logistics is a male dominated, old-fashioned industry based around slow, dirty trucks: thats probably the idea of the logistics and parcel delivery industry held by most people. In terms of a career, many women would think absolute nightmare. But not me.
Anna explains: To me the logistics and transport industry is exciting, challenging, rewarding and, yes, even fun. Even though as a little girl with pink bows in my platted hair I never dreamt of spending half of my life in warehouses and hubs, Ive not looked back since I arrived into this industry in 2008, taking a job at The Chartered Institute of Logistics & Transport.
She continues: Now I run my own marketing agency for logistics businesses, Myway Enterprises, Imagine the feeling of driving on a motorway and passing one of the trucks that carries your design, or launching a project with a customer who wins a prestigious award for it. The best feeling in the whole wide world.'
Anna concedes: Its true that the majority of my customers are still male but all of them are very supportive and completely appreciate a womans point of view in their boardroom. Men and women work differently, manage people in different ways and look at things from a completely different perspective: but that is exactly why we need more females in transport.
Theres a massive gender imbalance in the logistics industry and youd be forgiven for questioning why a woman would want to work in such a male-dominated profession? However, the industry is really not just men in trucks. With social media changing our world, theres a greater need now for more marketing and IT staff the management of logistics is equally important to the operational side.
ParcelHeros Head of Public Relations, David Jinks, says: As Anna reveals in her guest post the parcels and logistics industry offers many varied careers for women; small wonder so many of ParcelHeros own team are, in fact, ParcelHeroines.
For more information see http://www.parcelhero.com/blog/general/parcelhero-guest-blog-anna-kozlowska