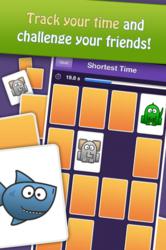 (PRWEB) April 11, 2013
Lolay Inc. has recently released a new turn-based memory card game, MemorWe. This card-matching game allows users to test the accuracy or speed of their memory. The game can be played individually or with friends.
The game features two modes of competition, accuracy and speed. In accuracy mode, players compete to see who can match all the cards with the least number of card flips. When players compete for speed, the player who matches cards the quickest wins, regardless of the number of card flips it took them to match all the cards.
Users can choose from custom card decks featuring animals, ink blots, letters, people, sports and more. The game also features multiple skill levels, making it easier for users to practice individually and sharpen their skills before competing with friends. In addition, players can use power ups, which allow them to eliminate pairs of cards, momentarily reveal the board, or freeze the clock.
A review of the game, published on appPicker by reviewer Rebecca MacLary, praised the game. I found this game incredibly easy to play but mastering it was a whole other challenge. Playing against friends gave it an extra element of fun and I found it became quite addictive trying to out-best one another, she wrote.
MemorWe was priced at $ 3.99 in the iTunes App Store when it was released in February, and is available as a free download for a limited time.
To play with friends, users will need to set up a free Game Center account, using the Game Center app, which is pre-loaded on all Apple devices.
The app is compatible with the following devices: iPhone 3GS, iPhone 4, iPhone 4S, iPhone 5, iPod touch (3rd generation), iPod touch (4th generation), iPod touch (5th generation), and iPad with iOS 6.0 or later.
To download MemorWe 1.1 visit the iTunes App Store https://itunes.apple.com/us/app/memorwe-free-turn-based-classic/id594004768?mt=8.
About Lolay Inc.

Lolay Inc. is a high quality mobile strategy development firm that develops web-based products and applications for many devices and software, including iPhone, iPad, Android, Windows 8, and more. For more information, contact the company at info(at)lolay.com or visit http://www.lolay.com/index.html.