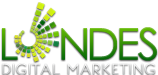 Spencerport, NY (PRWEB) November 30, 2013
Londes Digital Marketing, a full-service digital marketing firm, has hired Craig Tuttle of Rochester, NY as a Rochester SEO specialist. He will be responsible for managing search engine optimization (SEO) vendor services for client accounts, focusing on clients in the Rochester region.
Prior to joining Londes Digital Marketing, Craig gained online marketing experience running his own online businesses. His specialties in fitness and online marketing have lead to a great deal of experience in the digital marketing area. He attended Monroe Community College.
Craig will be in charge of SEO vendor services and expanding the local SEO offerings for Londes Digital Marketing. He will work out of their Spencerport, NY office.
About Londes Digital Marketing:

Londes Digital Marketing is a full-service digital marketing firm providing quantitative-based, ROI-focused strategic solutions. Clients range from local professionals to large e-commerce websites, with Londes Digital Marketing providing specialized services in SEM, SEO, Analytics, and Conversion Rate Optimization. For more information, e-mail info(at)londes(dot)com or visit http://www.londes.com.