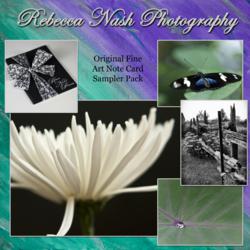 London, ON (PRWEB) May 21, 2012
Local photographer, Rebecca Nash of Rebecca Nash Photography, has been chosen as one of 40 artisans (and one of only a few Canadians) to include items in the celebrity swag bags at the GBK MTV Movie Awards Gifting Suite on June 1st & 2nd 2012 in Los Angeles, CA. Plus, her products will be on display in the Gifting Suite where celebrities can have their photos taken with the displays.
As a member of the celebrity gifting organization, known as the Artisan Group, Nash has designed a new line of fine art products complete with new packaging. My fine art work usually comes in large sizes, from 8×12 upwards, so when I was told my items could be no larger than 5×7 and packed as flat as possible, I knew I had to come up with a new design that was easily replicable, said Nash. Each artisan is required to donate 100 items.
To accommodate the size restrictions, Nash designed stationery sets. Celebrities will receive a portrait case trimmed in ribbon. Inside is a set of four 4×5 blank note cards with fine art photos on the cover, corresponding envelopes, and a gift certificate for a full set of twelve note cards with a choice of themes.
Its a thrill to be included in such a huge event. More than any repeat business, I hope to receive photos of celebrities holding my new products as theyll be a fabulous endorsement to use on my Web site and in promoting the new line of products, said Nash.
Along with Nashs note cards, celebrities will receive a variety of handmade gifts of stationery, jewellery, bath products, etc. from the artists of the Artisan Group. At the 2012 Golden Globes, attendees received an estimated $ 1,300USD worth of products in this one swag bag alone.
With a studio in London, Nash specializes in portraits, weddings, and fine art pieces. She will be making a limited quantity of her celebrity gift available through her Web site http://www.rebeccanashphotography.com and the etsy store at http://www.rebeccanashphoto.etsy.com the month prior to the MTV Movie Awards.
-30-
CONTACT: