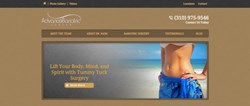 Long Beach, CA (PRWEB) February 05, 2014
Dr. Joseph Naim and the team at Advanced Bariatric Center are pleased to announce the launch of their new website: drnaim.com. This redesigned and restructured website was developed by Einstein Medical using the Lucid Content Management System, creating a dynamic appearance without sacrificing an intuitive user experience.
A New Look and Feel
The new Advanced Bariatric Center website offers a whole new look and feel. The use of different color schemes, imagery, and design elements impart a more contemporary appearance and help communicate the values of the Advanced Bariatric Center team.
A User-Friendly Experience
In restructuring the website, site users will have an improved experience navigating from page to page. Great emphasis has been placed on the ease of browsing the website and the simple layout and organization of information.
Links are strategically placed at the top and bottom of every page, allowing the user to easily find information on gastric bypass, LAP-BAND