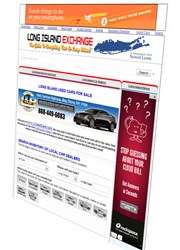 Long Island, N.Y. (PRWEB) October 11, 2013
Long Island Exchange Inc., a localized advertising and Internet marketing company based in central Long Island, is announcing a new, beneficial service both promoting and providing information for Long Islanders.
LIUsedCars.com, a new service offering by the 11 year old, LongIslandExchange.com, adds a proprietary system displaying used car inventory for local car dealerships. The system also syndicates this data, across multiple platforms and provides dealer social media marketing, maps, spotlight ads, call tracking and RSS feeds for dealer specific inventory.
Today, were announcing a new beneficial feature for Long Island used car dealers Auto Exchange, allowing customers to research vehicles online before they make a purchase. Used car sales are heavily dependent on visibility online first and foremost over any other advertising medium, said John Colascione, Founder and Managing Partner.
To view a list of participating dealers, please visit: http://www.NewsLI.com/cars/.
To become a participating dealer call: (631) 592-4425 and dial Ext. #208 or #206.
About Long Island Exchange Inc.

Launched over a decade ago in 2002, LongIslandExchange.com is a privately owned media company providing Long Islanders with a wealth of information, news, local business data, and resources for planning activities in the area. The site has won five awards from BOLI, Best on Long Island, in best of categories like "News, Media and Publications" as well as "Best Web Site of the Year."