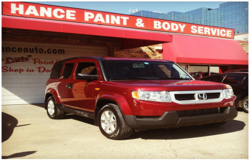 Dallas, TX (PRWEB) March 04, 2013
Hances Uptown Collision Center of Dallas, Texas recently launched an online marketing campaign to build on their existing branding, develop a social media presence and to integrate the customers needs through the accessibility of an online presence.
Hances Uptown Collision Center (also known as Hance Paint & Body) has been serving the Dallas community since 1955 at the same location on the southwest corner of McKinney Ave and Monticello. Hances offers extensive experience in collision repair, insurance claims processing and auto body restoration. They are considered the best kept secret in Dallas when it comes to automobiles, service and advice.
According to owner, Rob Mays, We believe in conducting our business the same way we live our lives: With honesty, integrity and fairness. We have been a key part of the community for nearly 60 years and that is something that we hold very dear.
Hances worked with Texas-based marketer, Texas Biz Soutions to boost their search engine optimization with a functional and integrative website. Hance said they were interested in using their website as a way to integrate with social media networks, like Facebook and Twitter to better serve customers.
Rob also has a policy of all advice is free. With a lifetime of experience in the industry, he will answer any car questions and offer free car advice to all customers, whether it be on repairs, painting, insurance policies, sales, maintenance or financing. He also manages a blogCar Nut Dallasthat features different articles on the aforementioned subjects.
To learn more about Hances Uptown Collision Center or to link directly to Robs blog, visit http://www.hanceauto.com or call 214-666-5291.
Texas Biz Solutions, with offices in both Dallas, Texas and Tyler, Texas, develops online marketing solutions for small businesses offering basic to comprehensive online marketing strategies for a competitively low price. These solutions include improving search engine optimization for top placement in Google+, building custom websites that integrate social media outlets, including Facebook, Twitter and YouTube, as well as custom management of online design and marketing strategies. For more information about Texas Biz Solutions, visit http://www.TexasBizSolutions.com.
###