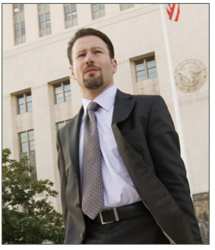 (PRWEB) May 01, 2013
USC Film School Student Eric Cook and a very large film crew met in downtown Los Angeles on January 13th to create a revolutionary web site promotional video.
This was a high budget movie style production made for Los Angeles Criminal Defense Attorney RJ Manuelians web site.
Manuelian said, "We had a concept of bringing law, promotion and entertainment to a level which has never been done before for legal advertising. I didn't want another boring lawyer commercial, I wanted people to feel like they were watching a movie trailer to the next big Hollywood lawyer movie."
The project entailed months of planning, obtaining licenses and the securing of Los Angeles City Hall, a vital and important location needed to give the web site trailer the authenticity the trailer needed.
"I felt just like I was on the set of a major motion picture. The lights, the cameramen, boom mikes, the actors and extras, we had it all. There was no cutting corners, we went full throttle with this project and I am very pleased with the result."
The promo trailer is currently featured on http://www.manuelianlawfirm.com and can be also viewed on Youtube.
R.J. Manuelian is a criminal defense attorney, an author, a speaker, legal expert, consultant and legal commentator for all major media outlets including FOX News, CNN, NBC, CBS, ABC and has covered high-profile cases.
R.J. Manuelian was voted by his peers as a Rising Star between 2007 to 2011 by Southern California Super Lawyers and nominated this year as a 2013 Super Lawyer and continues to keep his undefeated trial record untarnished since 2008.
Manuelian is currently planning the sequel to this promo for release in early 2014. "I want to do something bigger, better, more creative for our next project. This movie trailer was just the start, the goal is to make each trailer better than the last and that presents a great personal, creative and financial challenge for me. I believe it will all be worth it in the end and look forward to its release."
The Manuelian Law Firm is grateful to the entire USC Film School, students, staff, actors and extras who worked tirelessly and passionately throughout this project. Thank you Ashley London for bringing this brainstorm to life. A special thank you to Director Eric Cook for creating the magic.