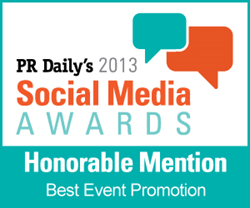 Eatontown, N.J. (PRWEB) February 26, 2014
Content marketing agency, lotus823, announced that it has received an honorable mention in PR Dailys 2013 Social Media Awards for Best Use of Social Media for Event Promotion. The annual awards program celebrates the cream of the crop in digital marketing social media campaigns.
Based in New Jersey, the content marketing agency earned recognition for its successful 2013 Consumer Electronics Show (CES) social media event strategy for industry giant RCA. The campaign, titled Mans Other Best Friend, rewarded RCA fans with Las Vegas-themed prizes for checking in via RCA social media platforms and taking an image with the beloved RCA dogs, Nipper and Chipper, at CES 2013. The company saw a 498% increase in Twitter followers and a 1,098% increase in Facebook Likes. Both gains can be attributed to lotus823s successful social media campaign.
We are very grateful to receive an honorable mention in PR Dailys Social Media Awards, said David Hernandez, Managing Partner, lotus823. Social media conversations are tomorrows currency, and we love any opportunity to start a good conversation. This recognition speaks to the incredible content marketing our team creates for our clients every day.
For more information about PR Dailys Social Media Awards, visit http://www.prdaily.com/awards/SM2013Winners.aspx.
About lotus823

lotus823 was founded in 2010 as a full-service public relations and digital marketing agency. Combining creative genius, smart thinking and analytical acumen, the executive team at lotus823 developed a new communications model using a cross-platform approach to create an immersive experience for brands and their publics. By building powerful connections across multiple channels, the digital agency delivers engaging business solutions with measurable results.