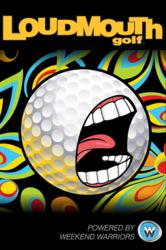 San Francisco, CA (PRWEB) April 03, 2013
Loudmouth Golf announced today the release of their free branded iPhone app named Loudmouth Golf Tour. The app allows golfers of all levels to keep score and seamlessly track detailed stats, while fostering competition with golf buddies on Facebook. The Loudmouth Golf Tour app is available today directly from the Apple App Store.
By combining an easy-to-use graphic interface with an achievement-based feedback system, the app makes it simple and fun for the golfer to play golf and monitor their game. In addition to keeping score, the app allows golfers to engage their friends through golf groups, compete with one another, manage their groups golf stats, and play against other Loudmouth players. Golfers can earn Loudmouth points, unlock personal achievements and win Loudmouth merchandise by playing in exclusive Loudmouth-sponsored competitions.
Many of us at Loudmouth have technical Silicon Valley backgrounds, so when we partnered with Weekend Warriors to design this app our goal was to create a product that has a Loudmouth effect – give Loudmouth Nation a new tool that makes golfing more fun and throw some good data in as the Cherry Bomb on top, says Larry Jackson, Loudmouth Golf CEO. We have created an extremely socially interactive, easy-to-use app that encourages outright gloating on a global scale and fosters competition among golfing frenemies.
We're excited to launch the Loudmouth Golf Tour app," says Shaw Taylor, head of marketing and partnerships for Weekend Warriors. "As friends challenge each other to compete, or break 100 or 90 or 80 for the first time, they engage with the app and the Loudmouth Golf brand. This interaction has the potential to significantly redefine the game and the business of golf.
For more information, visit: http://www.LoudmouthGolf.com
About Loudmouth Golf:

Founded in 2000, Loudmouth Golf is recognized as a leading brand in stylish apparel for men and women. The Loudmouth line features bright colors in striking patterns in a wide selection of pants, shorts, shirts, skorts, sport coats, belts, snow wear, and accessories all designed by the founder, Woody. Whether you are playing golf, relaxing on vacation, or enjoying a night on the town, Loudmouth apparel is perfect for all your occasions. Celebrities with style across the sports and entertainment worlds wear Loudmouth. This includes two-time major winning golfer, John Daly and other PGA and LPGA professionals; The Vancouver Winter Olympic Silver Medalists, the Norwegian Men's Curling Team; And many more.
About Weekend Warriors, LLC:

Weekend Warriors, LLC is a privately held company based in the San Francisco Bay Area. Weekend Warriors is dedicated to offering companies the ability to strengthen their brand and increase sales by leveraging the power of social and mobile apps to build stronger relationships with golfers. Our white-label golf app allows brands to offer the golfing community with a deep in-app experience providing golfers with the ability to track scores, compete with friends and engage with the brand. For more information please visit http://www.wwdevs.com.
PR Contacts:

Cassie Kovacevich

Loudmouth Golf

214-642-1924

cassie [at] loudmouth [dot] com
Shaw Taylor

Weekend Warriors

415-515-4611

shaw [at] wwdevs [dot] com