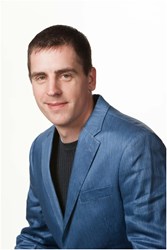 Mayer, Minn. (PRWEB) January 16, 2014
Jason Popovich worked for eight years in marketing and sales for a business-to-business corporation and toured as a musician before he decided to buy his own business.
I always wanted the opportunity to control my own destiny, said Popovich.
He began working with a business coach that helped him zero in on the perfect franchise for him: WSI Digital Consulting.
Popovich explains, WSI has been around since the mid-1990s and is one of the worlds largest digital marketing companies, with independent offices in over 80 countries. It is also one of two companies that have a global partnership with Google. So, in essence, I get the independence and customer service of a smaller, local firm that can develop customized offerings for clients, with the backing of a large, multi-national company.
His business coach also introduced him to the services of Guidant Financial, where he used their 401(k) rollover service to help fund his business. Popovich remembers, Guidant made the process very easy and helped when I had any questions.
Open since November, Popovich says the best thing so far about being a business owner is the sense of accomplishment and the privilege of helping others.
WSI can help your business with website optimization, content marketing, search marketing, social media, mobile marketing and responsive web design. To inquire about specific services and solutions, call (952) 843-3322 or visit wsidigitalconsulting.com.
WSI Digital Consulting

WSI is the worlds leading Internet franchise offering digital marketing services to suit the needs of multiple industries. The company has the worlds largest Digital Marketing Consultants network with its head office in Toronto, Canada. WSI Digital Marketing Consultants have helped thousands of small and medium-sized businesses realize their online marketing potential. By using innovative Internet technologies and advanced digital marketing strategies, businesses can have a WSI Digital Marketing System tailored to their individual needs to elevate their Internet presence and profitability to new levels. For more information about WSIs offerings and business opportunities, please visit our website at wsiworld.com.
Guidant Financial

Guidant Financial helps individuals create the life they want through innovative small business funding. They are the premier provider of Rollovers as Business Start-ups (ROBS), in addition to offering traditional funding options such as SBA loans, portfolio loans and unsecured credit. For more information on small business financing, visit Guidant online at guidantfinancial.com.