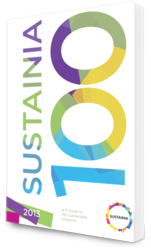 Portland, Oregon (PRWEB) June 11, 2013
Lucid Energy today announced that its flagship product, the LucidPipe Power System, has been named to the Sustainia100 for its positive social, economic and environmental impact on local communities. The LucidPipe in-conduit hydropower system, which enables industrial, municipal and agricultural facilities to produce clean, reliable, low-cost electricity from their gravity-fed water pipelines and effluent streams, was selected for inclusion in the Sustainia100 sustainability guide, which identifies the most innovative sustainable solutions around the world.
Sustainia100 evaluated and selected the 100 most impactful solutions out of more than 500 nominated projects and technologies that have been deployed in 128 countries.
There are so many great ideas and promising solutions from around the globe, it is truly an honor to be named to this prestigious list, said Gregg Semler, President and CEO of Lucid Energy.
Arnold Schwarzenegger, former Governor of California and Honorary Chair of Sustainia Award, offered his congratulations to the Sustainia100 for 2013. They are the true action heroes of sustainability, he said. From Canada to Kenya to Guatemala to India, these solutions are proving that we can build communities that are both environmentally and economically sustainable today and for generations to come.
Sustainia100 is a tool for investors, business leaders, decision makers and consumers as it provides insights to the most promising solutions at the forefront of sustainable transformation. It identifies solutions within 10 sectors: Education, Energy, Health, Smart Cities, Resources, Buildings, Food, Fashion, Transportation and Information Technology. Selected solutions also include: waterless dyeing of fashion garments; intelligent streetlights and a virtual power plant.
Congratulations to the selected 100 solutions, said Erik Rasmussen, founder of Sustainia. In each of their fields, these solutions have proved that sustainable alternatives are not only available, but also attractive, competitive and successful. Each and every solution gives us hope for a faster transformation to a sustainable future.
Award for the Best Solution
As a selected Sustainia100 solution, the LucidPipe Power System also enters the field of nominees for an international sustainability award, the Sustainia Award, chaired by former Governor of California, Arnold Schwarzenegger. Mr. Schwarzenegger heads the selection jury that also includes former Prime Minister Gro Harlem Brundtland, EU Commissioner for Climate Action Connie Hedegaard and Chair of the UN climate panel, IPCC, Dr. Rajendra K. Pachauri.
"It is really encouraging to see that new, innovative solutions continue to emerge in all parts of the world, said Connie Hedegaard, EU Commissioner for Climate Action. Here is all the proof we need that sustainable solutions work, that they are profitable, desirable and successful. I look forward to awarding the best one at this year's Sustainia Award Ceremony.
The winner of the Sustainia Award will be announced at a ceremony in Copenhagen on November 7, 2013. The EU Commissioner will furthermore reward the best European solution.
New Solutions and Trends in Sustainability
Research and data behind the Sustainia100 reflect new market trends and developments. Increasingly, sustainable innovation acknowledges the importance of consumer behavior by giving users access to data that drive them to change their energy and fuel consumption. More and more, sustainable solutions are using big data analytics to lower waste.
It is very encouraging to see that Sustainia100 solutions show that the geography of sustainability innovation is global, said Georg Kell, Executive Director, UN Global Compact. Sustainia is demonstrating that a transformation towards a greener and more inclusive world is possible everywhere."
About Lucid Energy
Lucid Energy Inc. is a provider of renewable energy systems. Lucid Energys patented LucidPipe Power System enables industrial, municipal and agricultural facilities to generate clean, reliable, low-cost electricity from their gravity-fed water pipelines and effluent streams.
Lucid Energy was formed in 2007 with the mission of creating a new way for industries particularly those that use large amounts of water and electricity to turn the untapped energy of moving water into cost-saving, renewable energy. In 2008, Lucid formed a strategic relationship with Northwest Pipe Company (NASDAQ: NWPX), the largest manufacturer of steel water transmission pipe in the United States. The two companies collaborated on the development of the lift-based turbine design that is the foundation for the LucidPipe in-pipe hydropower system.
For more information, please go to: http://www.lucidenergy.com.
THE SUSTAINIA100 GUIDE IS AVAILABLE HERE: http://www.sustainia.me/solutions/
ADDITIONAL AVAILABLE QUOTE:
Dr. Rajendra K. Pachauri, Chair of the UN climate panel, IPCC:

Sustainia100 raises awareness about the man-made effects on our environment by giving us 100 man-made solutions. Hence, the challenge of climate change is addressed through harnessing of technology, innovation and research available to the world. With this solution-based approach, Sustainia100 delivers a clear and comprehensive call for action to a broad audience of politicians and corporations as well as civil society."