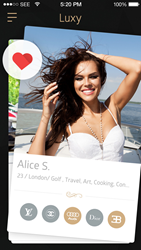 Los Angeles, California (PRWEB) November 03, 2014
Luxy, claiming to be "world's most luxurious dating app," has been nothing but eye-catching for the past a few months. Having successively been reported by and featured on Yahoo, CNN, Forbes, Mirror, HuffingtonPost, DailyMail, and New York Times, Luxy is no doubt on the list of the hottest apps of the year.
However, large quantities of new users joining every day simultaneously bring new problems. Although Luxy has a very unique way of filtering conversations from undesired users, which only allows two users to start a conversation when their likes for each other are reciprocated, some users still get annoyed by those who make disturbing comments on every single Moment they share and wouldn't stop liking them. To deal with such issues, Luxy developed a "Block" feature that allows users to block people they consider "annoying."
"We value every user's opinion," said Tim, CEO of Luxy. "We know that this is a basic function on lots of other similar apps, but frankly we didn't want to add it to Luxy at first. Being blocked hurts, we all know that."
Those who are blocked by other users will be no longer able to like them, start a conversation with them (even if they both liked each other before) or comment on the moments they've shared. That is to say, no communication whatsoever will be possible between them unless the block is off.
To know more about Luxy, visit its official website here, or download the app on the App Store or Google Play.