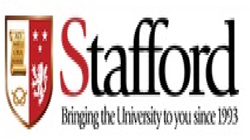 (PRWEB) April 18, 2015
A career in media and communication is considered a promising one in the UAE. With the economy gaining pace and steadily going beyond petro-dollars, their environment has become encouraging to this career. Professionals in the field who desire to grow can boost their prospects by obtaining world class and relevant education. Stafford, a top-ranking resource centre for professional education in the Middle East, is currently offering an MA in New Media and Society in collaboration with the highly regarded University of Leicester.
The discipline combines conventional forms of communication with contemporary critical and cultural studies to analyse the role of communications and media in contemporary society. Learning about media and communication techniques helps the student to appreciate the values of words and pictures. The programme stresses on an extensive practical agenda, making students capable of aligning themselves to the requirements of the industry.
The programme offers an intensive exploration of the data and information within contemporary societies and communications. There is great demand today for professionals with these strategic skills. Successfully managing media products requires a broad knowledge of social trends and development along with a hold on all the key concepts. Organisations look for decision-makers with sound judgement. The programme is aimed at turning out outstanding graduates in the field with good prospects in the industry.
This expert-designed programme takes a firm cross-media approach. Students get an opportunity to join a course rolled out by one of the longest-established UK Universitys and gain education which would keep them in good stead throughout their career. Students can be sure of reliable and authoritative academic support regardless of the location.
The duration of the programme is two years. There are exit routes as well for the students who complete the programme partially. If they exit after 12 months, they are awarded the Postgraduate Certificate in Mass Communications. After 20 months they receive a Postgraduate Diploma. Acclaimed for state-of-the-art distance education in the UAE, Stafford offers programmes which pave the way for a rewarding career.
About Stafford
Established in 1993, Stafford offers online MBA, doctorate, diploma and certificate courses. When it comes to offering online MBA Programmes in the UAE there are few institutions that can compete with them. Their PGCE distance learning courses are also in high demand. The strong educational roots of Stafford explain the superior satisfaction and completion rates achieved by their students.
Contact Information
Stafford Headquarters
Tel: + 971 7203 1204

Email: info@staffordglobal.org

Office: Education Free Zone,

Ras Al Khaimah, United Arab Emirates,

Office No. 204B, Business Centre 4
Kingdom of Saudi Arabia (KSA)

Tel: + 966 552 633 037

# # #