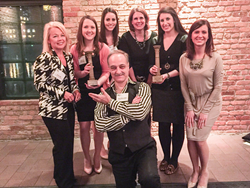 Minneapolis, Minnesota (PRWEB) April 16, 2015
The Minnesota chapter of the Public Relations Society of America (Minnesota PRSA) honored Minneapolis-based Maccabee Public Relations with two "Classics Awards" celebrating campaigns for clients GNP Company and The National Theatre for Children (NTC):


The Maccabee "Communicating GNP Companys Road To New Growth" campaign with GNP Company won in the Crisis/Issues Management category.
The Maccabee "Inbound Marketing Electrifies Outreach to Energy Executives" campaign with NTC won in the Marketing Services Established (budget less than $ 100,000) category.
Three of Maccabee's other campaigns were honored as finalists, as well, including:

"GNP Company Honors Helgeson Family Legacy" with GNP Company in the Special Purpose Publications category.
"Measurement Is Key To Catching Fishing Opener Success" with Explore Minnesota in the Measurement & Evaluation category.
"Serving Up The Worlds Largest Ice Cream Scoop" with Kemps Dairy in the Special Events/Observances (More than 7 days) Business/Industry category. See full case study.
The Classics awards, presented by Minnesota PRSA, honor the best in the PR field. Since 1978, Classics awards re presented annually to PR practitioners who, in the judgment of their peers, have successfully addressed a communications challenge with exemplary professional skill, creativity and resourcefulness.
ABOUT THE AWARD-WINNING MACCABEE CAMPAIGNS:

Minnesota-based GNP Company partnered with Maccabee in 2013 to announce the historic sale of the nearly 90-year-old family-owned company to Illinois-based Maschhoff Family Foods. Through an integrated issues management program, internal and external communications not only allayed concerns often associated with company acquisitions and leadership changes, but also built excitement about the companys future among team members, family farm partners and other key audiences.
NTC, an award-winning educational content provider, recognized an opportunity to expand its business by addressing the customer engagement needs of the ever-evolving energy utility industry. To assist, Maccabee created a bold, inbound marketing campaign for NTC with content aimed at utility executives through means of a free downloadable e-book, 7 Strategies to Power Up Your CFOs Support: How to Get Money For Your DSM Programs. The campaign achieved more than 100 percent of its sales lead goal. See full case study.
ABOUT MACCABEE PUBLIC RELATIONS:

Thrice-named one of Minnesotas "100 Best Companies To Work For," Maccabee is a strategic public relations and online marketing agency providing clients with exceptionally strategic and creative media relations, social media strategies, inbound/content marketing and corporate communications counsel from its headquarters in the Warehouse District of downtown Minneapolis. Learn more about Maccabee at http://www.maccabee.com and follow us on Facebook, Twitter, LinkedIn, YouTube, Pinterest and our MaccaPR blog.