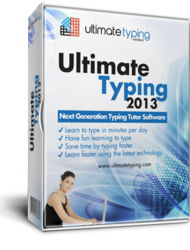 New York City, NY (PRWEB) May 30, 2013
Ultimate Typing software is the latest innovation from software company eReflect that combines the essential attributes of usability, functionality, speed, and an easy to use interface. The success rate of the product can be determined by the various reviews of the software published by renowned sites, as well as positive feedback from customers. In light of the recent success of the software, the eReflect development team has announced the release of a Mac version of Ultimate Typing in the near future, in answer to customer requests.
Ultimate Typing is designed for Windows XP, Windows Vista, Windows 7, and Windows 8; currently users can simply download the typing software and install it with relative ease. In their latest statement, the eReflect team explained that the organization is keen to satisfy the need of all its users, no matter which operating system they use. The need to derive maximum customer satisfaction from its target market has led the company to work on the latest version of Ultimate Typing that caters to the needs of users that run Macintosh operating systems.
Although no specific date has been announced by eReflect, the team hinted that users will not need to wait for long, as the developers have already begun their work. Ultimate Typing has already made a name for itself in the typing software market due to its ability to provide astonishing results in terms of typing speed and accuracy within a short span of time. Typists are eagerly waiting for the Mac version of the software, and the eReflect development team promised in their statement to keep users apprised of the release date of this version.
Ultimate Typing software already offers its users several distinctive features, including the Adaptive Learning technology system, high quality video tutorials, e-books, and an extensive range of drills and activities. The Mac version will contain all of these options, and allow a new set of users to learn to type.
For more details on Ultimate Typing please visit http://www.ultimatetyping.com/.
About Ultimate Typing
Ultimate Typing software is designed specifically for the improvement of typing skills. Created by eReflect, a world leader in e-learning and self-development software, Ultimate Typing has been informed by the latest developments in the science of touch typing.
Since its creation in 2006 by Marc Slater, the company has already catered to over 112 countries all over the world, offering products with the latest cutting-edge technology, some of which are among the worlds most recognized and awarded in the industry.