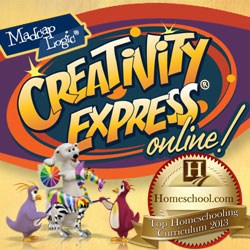 Tampa, Florida (PRWEB) November 08, 2013
Madcap Logic, LLC is proud to have 'Creativity Express' awarded the Homeschool.com 'Top Homeschooling Curriculum Award for 2013'. This coveted award reflects Homeschool.com's commitment to provide their community with top-quality homeschool educational resources. The past 25 years have seen a revival in homeschooling, and now between two and three million children in the United States are learning at home.
As CEO Elise Ruiz-Ramon said, "We hope that Creativity Express will reach a great number of children and provide them with a top-quality foundation to Art. It's particularly important now that traditional schools are increasingly stripping out this critical means of open children's eyes and giving them perspective on all their other courses. Plus it's very easy for the parents to use, and great fun for everyone. That's definitely a home school requirement."
Homeschool.com's review of Creativity Express included the following features and benefits:
There are three progressive components to Creativity Express: sayART, seeART, and doART. Children are introduced to fundamental art principles and ideas in sayART, discover meaning and interpretation in seeART and explore self-expression in doART.
The Creativity Express program offers engaging lessons with animated characters, followed by interactive activities to strengthen understanding of the ideas presented, plus so much more!